Stay Safe this Halloween
CDPH Discourages Trick-or-treating and gathering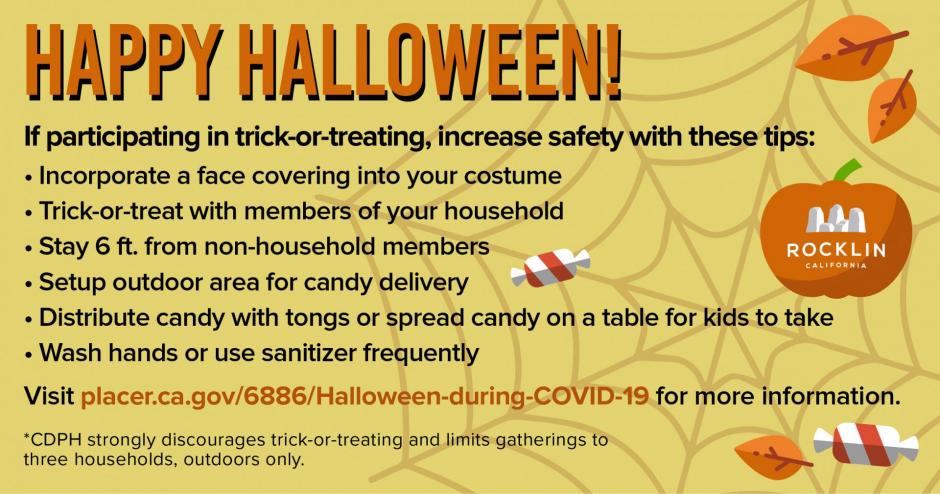 Many traditional Halloween activities pose a high-risk for spreading viruses, including COVID-19, and the California Department of Public Health recommends people choose safer alternatives.
The CDPH also strongly discourages trick-or-treating and restricts gatherings to three households, outdoors only. The full CDPH Halloween guidance is listed here.
Should you choose to gather or trick-or-treat, respect your neighbors and community. Everyone is navigating the COVID-19 pandemic to the best of their abilities and has different comfort levels regarding what is safe.
Below are a few tips from Placer County Public Health to help you trick-or-treat more safely:
Wear a face covering
Trick-or-treat with members of your own household and stay at least six ft. from others
Setup an outdoor candy delivery area, spread candy on a table for kids to take, or use tongs to hand out
Wash hands or use sanitizer frequently
Stay home if you or anyone in your household is not feeling well
Find more Placer County tips here.
Lower risk, alternative activities to traditional Halloween events include:
Carving or decorating pumpkins with your household or, at a safe distance, with neighbors or friends and then displaying them
Decorating your home and yard
Doing an outdoor Halloween scavenger hunt
Having a virtual costume contest or virtual party
Having a Halloween movie night with your household