Sept. 13 City Council Recap
PD Semi-Annual Report, Summer Students Recognized, Grant Report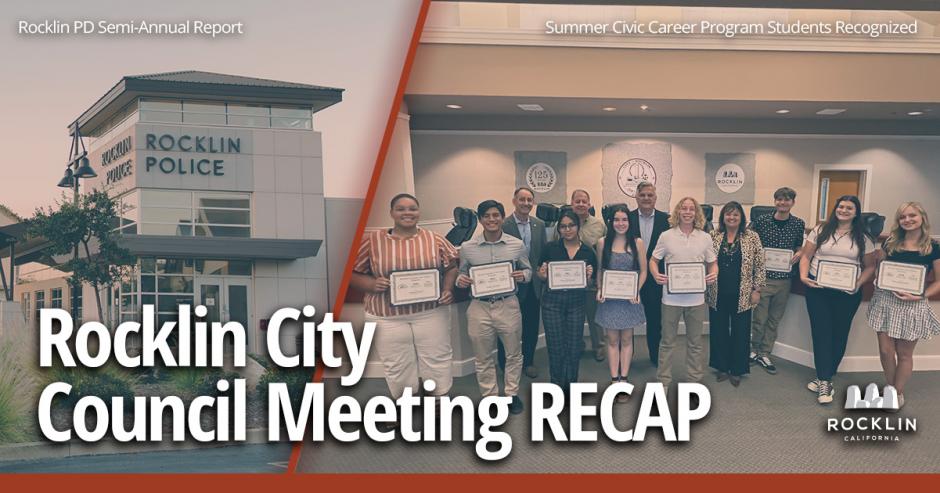 Police Department Semi-Annual Report
The City of Rocklin continues to be one of the safest cities in California and this week, the Rocklin Police Department presented a report on for crimes in Rocklin and other performance metrics from January 1, 2022 – July 31, 2022.
The crime rate was flat when compared to the same time period for 2021, at 9.2 crimes per 1,000 residents. Violent crime decreased by 10% (-6) while property crime increased by 2%, attributed in part to increases in total larceny (+26), including theft from vehicles. Catalytic converter thefts, which are included in the larceny statistics, continue to be an issue in Rocklin and the surrounding region.
Total police incidents decreased 1% (-312), with calls for service decreasing 3% (-576) and officer-initiated activity increasing 2% (+264).
Total traffic collisions across the City decreased 15% for a net decrease of 38 collisions from the previous 2021 time period.
Summer Civic Career Program Students Recognized
Eight high school seniors who received an up-close look at their local government during Rocklin's Summer Civic Career Program were recognized for their efforts Tuesday night.
In July, the students toured City departments for two weeks, learning about roles across the City including executive administration, parks and recreation, public services, emergency services, and more
The experience was eye-opening for many, as they learned first-hand a little of what it takes to provide the high-quality services residents expect from the City of Rocklin.
The program is made possible through a partnership including the City, the Rocklin Unified School District and the Rocklin Educational Excellence Foundation. REEF also awards a $500 scholarship to students who complete the program.
Watch the video of the students' experience in the SCCP here.
Report on Spending of Federal Community Development Block Grants
The City of Rocklin receives funding from the U.S. Department of Housing and Urban Development (HUD) in the form of Community Development Block Grants (CDBG) each year. The funds are used, in part, to assist residents with securing decent housing, benefit the elderly, and expand economic opportunities for those of low and moderate incomes.
A Consolidated Annual Performance and Evaluation Report (CAPER) is required each year by HUD outlining the programs and activities funded by the CDBGs awarded to the City.
The City was awarded $284,327 for the 2021 Program Year.
The City used these funds to support organizations including Senior Nutrition, Stand Up Placer and the Salvation Army. Money was also used to improve safety and accessibility in public spaces.
Find a full report on the CAPER here.
View the full agenda for the Sept. 13 City Council meeting, with links to each item, here.