RRUFF Completes PetSafe® Maintenance Grant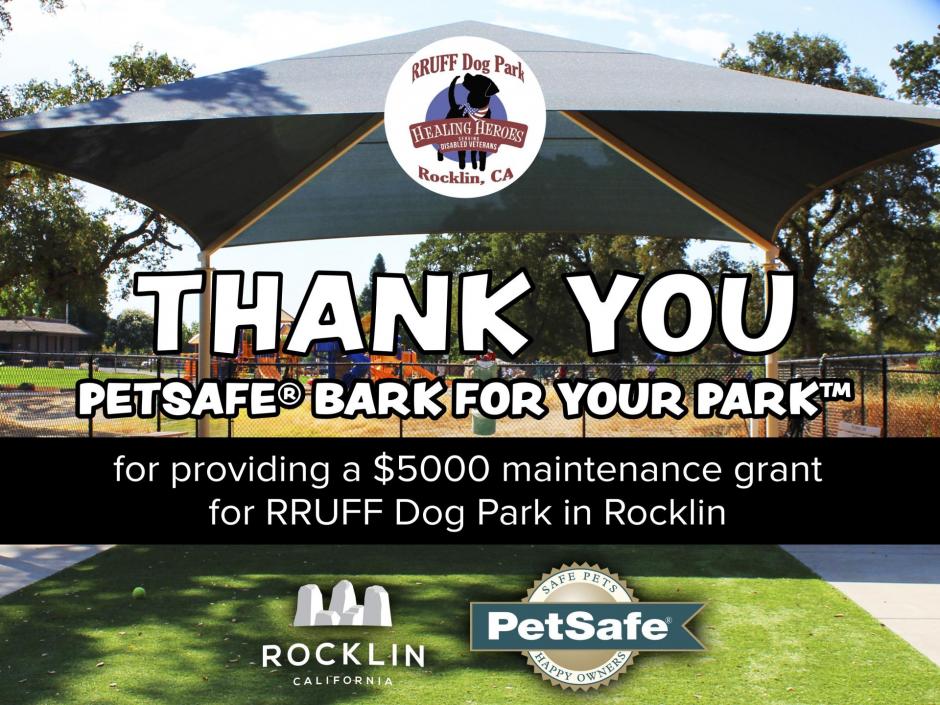 Rocklin Residents Unite for Fido (RRUFF), a nonprofit organization that helped to build and maintain the RRUFF Dog Park at Johnson-Springview Park, was one of five recipients nationwide to receive the 2018 PetSafe® Bark for Your Park™ Maintenance Grant.
The $5,000 grant has allowed RRUFF volunteers to complete several maintenance projects over the last 18 months that would have otherwise been deferred, including refreshing the organic cedar bark groundcover and installing four new benches, along with other small upgrades. A virtual grand reopening is in the works to celebrate the new installations.
"With support from the City of Rocklin Parks and Recreation Department, this generous donation has established the RRUFF Dog Park in Rocklin as the premier dog park in the greater Sacramento region," Vicki Curtis, Founder of RRUFF Dog Park said.
The dog park opened in late 2011 as the result of a joint effort between residents and the City. The City was able to fund various elements of the park such as the fencing and part of the canopy. RRUFF raised the rest of the funds to add amenities such as turf in the special needs dog area and the dog-safe groundcover throughout the dog park. Local residents helped by donating several memorial benches as well. The City is responsible for maintaining the park throughout the week as well as repair and replacement of major project components such as fencing or water issues. RRUFF is responsible for replacing amenities such as toys, hoses, and agility equipment, as well as ongoing weekend maintenance.
"We've known our community is incredibly family-focused and that has always included their four-legged family members too," said Phil Lewis, Rocklin Parks and Recreation director. "Working with RRUFF has been a great partnership that allows Rocklin to continue to support a healthy lifestyle for humans, as well as their dogs."
RRUFF Dog Park is the home for rescue group adoption days, obedience dog training classes, service dog training classes, including 4Paws2Freedom classes for disabled American Veterans (funded by the RRUFF Healing Heroes Program), and Canine Companions for Independence and Guide Dogs for the Blind puppy raisers. Its three distinct areas for small, large, and special needs dogs make it the ideal off-leash dog park for dogs to stretch their legs and socialize.
The dog park is open every day (rain or shine) for park-goers and their pets from dawn to dusk.