Rocklin Playgrounds Open; Social Distancing Required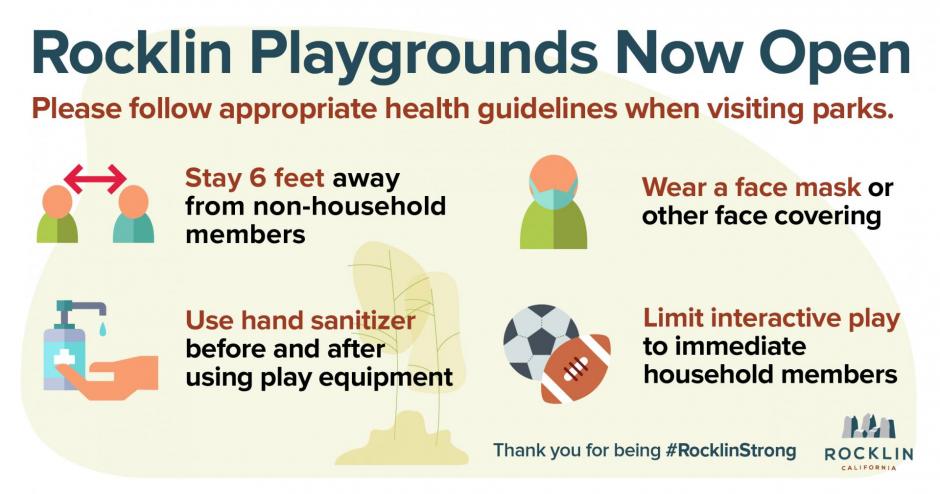 City of Rocklin is reopening playgrounds at City parks today to provide additional healthy outdoor recreation opportunities to residents.
The City asks residents to take personal responsibility when using the play areas with their families by following required social distancing protocols at all times. The City also strongly recommends disinfecting hands prior to and after use of playgrounds, and using face coverings when six-foot social distancing cannot be maintained.
All recreational areas of Rocklin parks are open for limited use with social distancing required, in addition to the rules listed below:
Playgrounds and play equipment (social distancing required)
Trails (social distancing required)
Pavilions, picnic areas and barbecue pits (social distancing required)
Dog Park (social distancing required)
Sports courts (Currently open for use by members of the same household)
Disc golf course (social distancing required)
Skate park (social distancing required)
Athletic fields. Only non-contact sports or recreational activities are authorized. No structured or organized practices, games, trainings, coaching, or team/league sports groups are permitted. Social distancing is required.
Restrooms and water fountains remain closed. **As of Thursday, May 28th, restrooms have opened.**
Signage has been posted around parks to remind the public to comply with social distancing practices.
For questions about allowable park usage, contact the Rocklin Parks and Recreation Department at 916-625-5200 or recreation@rocklin.ca.us. Parks & Recreation representatives will respond as quickly as possible.