#OpShieldsUp Ramps Up Production at Community Center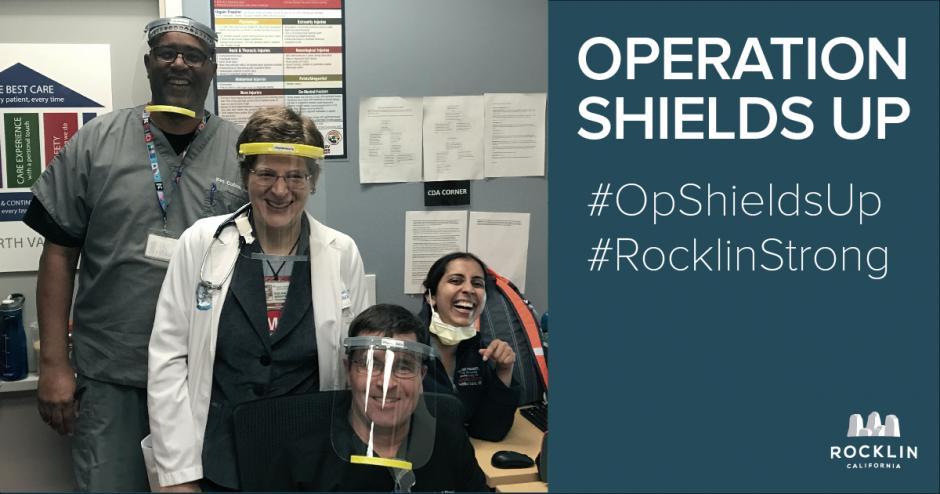 Face shield production for local healthcare providers and first responders by Alan Puccinelli, Rick Davis and their team of volunteers from Operation Shields Up has expanded to the Rocklin Community Center! With social distancing in effect, the building that usually hosts gatherings, games and other events was sitting idle. When the City learned Shields Up needed a few more square feet, staff quickly worked to provide access.
"We can't think of a better use of the space than production of vital personal protective equipment," said Parks and Recreation Deputy Director Kevin Huntzinger. "The City and staff are proud to be able to play a small part in this important effort."
To date, Operation Shields Up, which started with ingenuity and a few volunteers working from Hacker Lab in Rocklin, has produced more than 14,000 face shields for use by healthcare providers locally, and across the nation. and his partners 3-D print and laser cut the shields and mask components and local groups help to assemble them. Volunteers from Bayside Church alone have put together approximately 9,000 of the shields!
"We are so thankful to the City of Rocklin for showing such an amazing outpouring of support by allowing us use of the Community Center for Operation Shields Up," said Davis, who assists in the production with program founder Puccinelli. "Having a large open space like this will greatly expand our ability to produce PPE in the form of face shields for all our first responders in this pandemic crisis."
To learn more about Operation Shields Up, make a donation, or see volunteer opportunities, visit https://www.opshieldsup.org/.