October 25 City Council Recap
Placer Creek Apartments; Annual Fee Updates; Community Recognition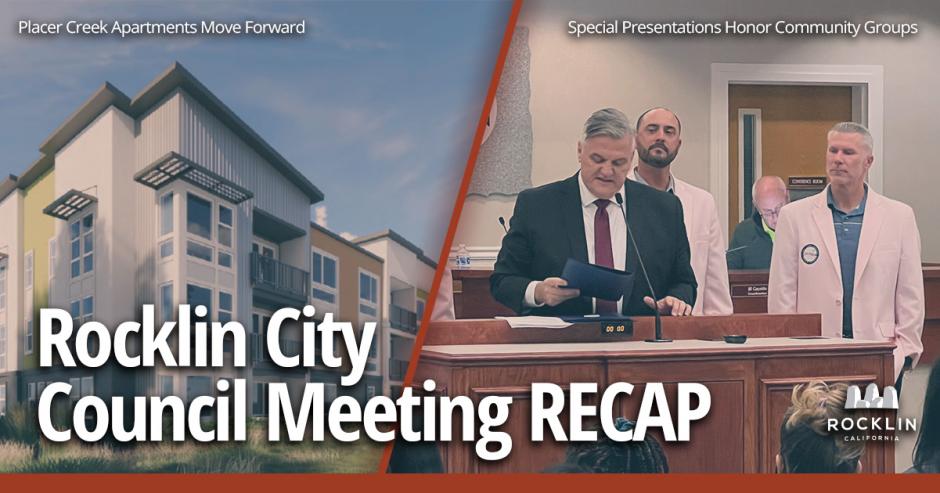 Placer Creek Apartments Approved
The Rocklin City Council took the first steps to approve entitlements and introduce an ordinance change that will allow the Placer Creek Apartments project to be built in the Whitney Ranch area.
The project will include a 254-unit apartment complex on a 10.4 acre site at the southeast corner of University Ave. and Whitney Ranch Parkway.
Although the entire site has a General Plan land use designation of mixed use, a majority of the site is zoned for commercial use. The mixed use land designation allows multi-family development without the need for a rezone but to provide land use consistency, Staff included the rezone to provide clarity in the Citywide Zoning Map and within the Northwest Rocklin General Development Plan.
A second reading of the ordinance will be held at the next feasible City Council meeting.
Find the item packet for the Placer Creek Apartments here.
Annual City Service Fee Updates
The City of Rocklin finalized the annual update to fees charged for City services at the Oct. 25 City Council meeting.
An ordinance and resolution were approved that establishes the services that the City provides for a fee to those personally benefitting, and the cost of each fee. The list of 394 fees includes 16 new fees and the removal of five others.
State law requires fees charged by a local agency may not exceed the estimated cost of providing the service. The city annually conducts a detailed fee study to determine the cost to provide each service based on the time spent by all City staff involved in providing the service. A "fully burdened hourly rate" is applied to every City position and the estimated time spent on each task by all staff, plus indirect overhead, determines each fee.
City Honors Community and Cultural Groups
The Rocklin City Council recognized the Whitney Ranch Charitable Foundation (WRCF) with a special resolution Tuesday night. The WRCF has raised more than $500,000 for breast cancer research since its formation 10 years ago after Whitney Ranch Resident Debra Scott lost her four-year battle with breast cancer.
The Council also proclaimed October 2022 as Breast Cancer Awareness Month and Hindu American Awareness and Appreciation Month.
Find the resolution and proclamations in the full Oct. 25 meeting agenda here.