Oct. 13 Council Meeting Recap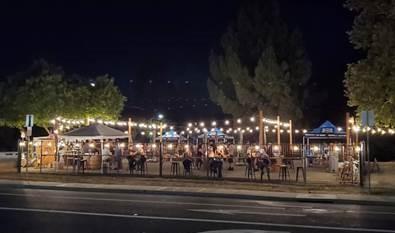 Quarry Park Outdoor Public Market Concept
An idea to transform a portion of the overflow parking lot at Quarry Park Adventures into an outdoor public market featuring food, adult beverages, and more, saw its first public presentation Tuesday.
The City will seek proposals from private entities interested in leasing the property and operating the public market, which could also include onsite food trucks, covered seating, and a small stage and amplified sound for musical performances. Potential entities would be required to cover all costs for building and managing operations, including permitting costs, impact fees, and utility installation.
Staff believes the project could be well tailored to the current Covid-19 environment and would complement Quarry Park Adventures and the Quarry Park Amphitheater concert series.
Overflow parking for QPA and other events would continue under the proposed plans.
City Council was asked to provide thoughts to guide further development of a formal proposal that would be presented at a future public meeting.
Due to uncertainties caused by covid-19, a private developer that was scheduled to purchase the land is no longer pursuing a project on the site, which caused the City to consider alternatives.
Rocklin Appoints Aly Zimmermann as City Manager
The Rocklin City Council unanimously appointed Aly Zimmermann as Rocklin's permanent city manager at their regularly scheduled meeting on Tuesday night.
Zimmermann has served as the assistant city manager for the City of Vista since 2012, where she managed multiple contracts and departments for the city with a population of over 100,000. Zimmerman's responsibilities include oversight of Vista's $150 million operating budget, administration of Vista's law enforcement contract with the San Diego County Sheriff, and acting as the organization's chief labor negotiator.
Her appointment to the position of Rocklin city manager is anticipated to become effective on November 16, 2020.
Commissioners Swear Oath of Office
Roberto Cortez is the newest member of the the Rocklin Planning Commission and five others were sworn in to server other city commissions. The Council thanked the entire applicant pool and pledged to offer those not chosen for these roles other ways to give back to the Rocklin community.
| | |
| --- | --- |
| NAME | COMMISSION |
| Roberto Cortez | Planning Commission |
| Twiana Armstrong | Parks, Recreation and Arts Commission |
| Christine Anderson | Parks, Recreation and Arts Commission |
| Anish Nalluri | Parks, Recreation and Arts Commission (Youth) |
| Georgetta Dolinsek | Community Recognition Commission |
| Warren Jorgensen | Community Recognition Commission |
Rocklin to Update Patio Cover Regulations
The municipal code regulating patio covers at residences in the City of Rocklin will no longer count the square footage of solid roofed covers toward lot coverage. Changes to the code will also allow attached patio covers open on three sides to extend up to 15 feet into the required rear setback, so long as a minimum 5-foot setback is maintained.
Staff will develop the final changes to the municipal code requested by Council and bring the ordinance back for presentation and approval at a future Council meeting.
View the complete agenda packet for Oct. 13 and hear the entire patio cover discussion by clicking item 20.