Oct. 11 City Council Recap
SACOG Blueprint, Fire Recruit Classification, Atherton Sewer Upgrades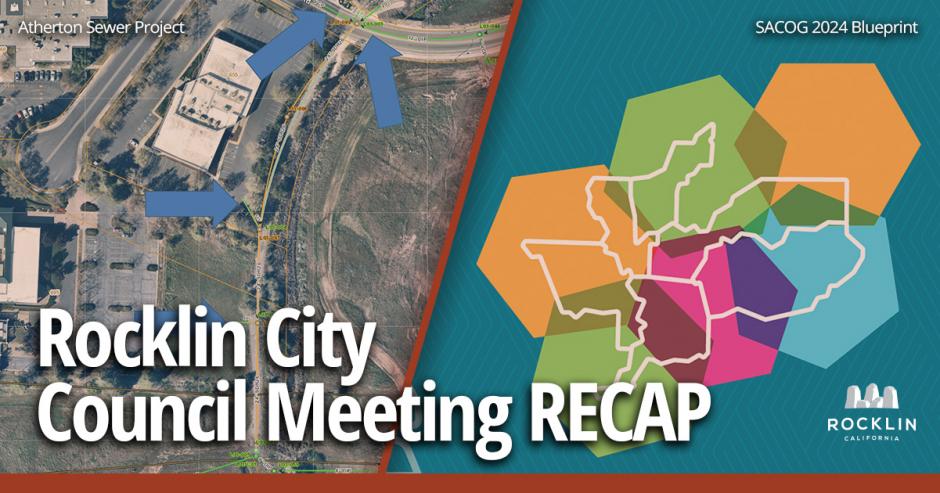 SACOG Presents 2024 Metropolitan Transportation Plan/Sustainable Communities Strategy "Blueprint"
The Sacramento Area Council of Governments represents six counties and 28 cities across the Sacramento region, including Placer County and Rocklin.
As an agency, SACOG works with its members to address regional challenges that are too big for any one jurisdiction to solve on their own.
Part of SACOG's purview is to update the region's Metropolitan Transportation Plan/Sustainable Communities Strategy every four years, with the next plan due in 2024. The 2024 Blueprint will outline recommendations for public land use policy and transportation investment strategies for the Sacramento region for the next 20-30 years.
On Tuesday night, SACOG presented on the state of the plan and their desire to work with Rocklin groups to continue its development.
Find more on SACOG's Blueprint at https://www.sacog.org/2024-blueprint-mtpscs and watch this week's presentation here: https://rocklin.novusagenda.com/agendapublic/VODPreview.aspx?meetingVideoID=0d494367-0984-4182-8b15-df1d98438d19&index=5731
City Adds Fire Recruit Job Classification
The City of Rocklin Fire Department is a desirable place to work, illustrated by the fact that the last lateral firefighter recruitment garnered nearly 40 applications in one month.
That number is high but down from recruitments in previous years. To stay ahead of the hiring curve, Rocklin Fire and the Human Resources Division presented an option to add a fire recruit classification to the department. The position which would allow the City recruit individuals who do not possess the California Firefighter I certificate and then send them to the fire academy to be trained.
The recruit classification is available in 70 percent of Rocklin's comparator agencies.
The City Council unanimously approved the item.
Atherton Sewer Improvements
The South Placer Municipal Utility District provides sewer service in the City of Rocklin. As part of a development agreement in 2014, Rocklin committed to SPMUD to increase the size of the Atherton sewer trunk line when it neared capacity, which is 2,500 homes connected (or equivalent dwelling units EDUs).
The threshold to begin the process of 1,900 EDU's was met as time progressed, and the project to replace more than 800 feet of sewer pipe was awarded for construction to a contractor this September.
As part of the approved construction plans, a temporary bypass sewer line will be installed and the sewer laterals and sewer flow from existing SPMUD customers will be reinstated and routed through the City's new sewer line during construction. The bypass sewer line will be owned, operated, and maintained by the City during this portion of the construction.