November 14 City Council Meeting Recap
City Proclamations; Pickleball Facility Grant at SWRA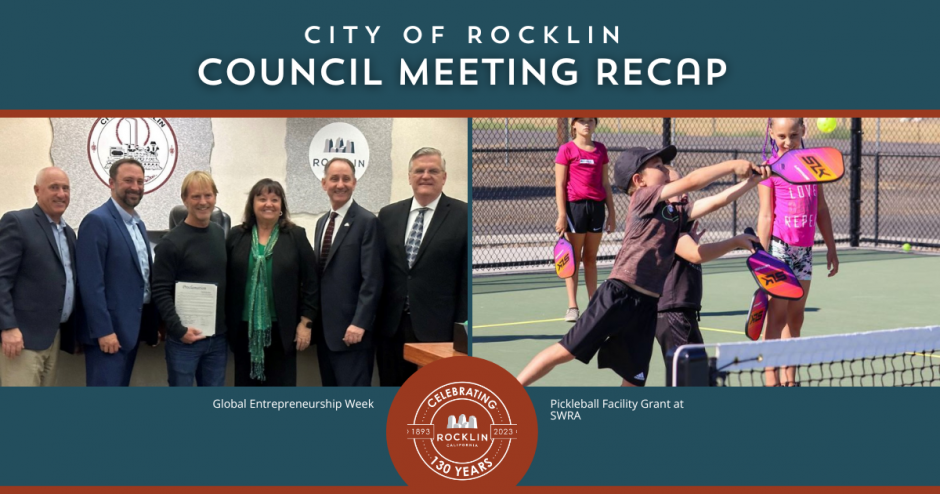 City Of Rocklin Delivers Several Exciting Proclamations
Mayor Broadway delivered a proclamation recognizing November 25, 2023 as Small Business Saturday.
"Small Businesses are the heartbeat of our community," Broadway stated, "They keep us growing and moving forward and this is an opportunity for us to be able to recognize that with this day. We urge the residents of our community to support small businesses and merchants on Small Business Saturday and 'Choose Rocklin' throughout the year."
In addition, City Council recognized November 2023 as Global Entrepreneurship Week, acknowledging the innovators and job creators who bring jobs and businesses to life in the Greater Sacramento region. Mark Haney, a serial entrepreneur and respected podcaster, was presented with the proclamation, on behalf of Growth Factory, for the work they do to inspire innovation across our region.
Lastly, City Council officially recognized November as Placer County Art & Culture Month, stating that the creative industries remain among the most vital sectors of the American economy, and make communities attractive to businesses and business development.
Twiana Armstrong, Arts Council of Placer County Board Chair, alongside board members Darcy Frank and Gloria Beverage, were presented with the proclamation for their efforts in promoting art and culture in Rocklin and Placer County.
Pickleball Facility At SWRA Awarded Grant Funds Through Placer Valley Tourism
Upon approval, City of Rocklin received a $400,000 grant for the installation of a Pickleball Facility at the Sunset Whitney Recreation Area (SWRA).
Pickleball has grown in popularity over recent years, and countless Rocklin residents have shown their support for integrating more Pickleball activities in the region. The proposed Pickleball complex located at "The Hub" within SWRA, will consist of 16 courts including two championship courts. With the massive size that SWRA offers, there is potential to be able to hold regional and national Pickleball tournaments, which draw in sizeable crowds.
Placer Valley Tourism (PVT) has provided the City with a grant of up to $400,000 to develop the Pickleball Facility. The City will receive $200,000 on or before December 31, 2023, and the remaining $200,000 upon project completion.