New Tiller Truck Provides Rocklin Fire Flexibility
The Rocklin Fire Department is equipped with the tools and training to assist Rocklin residents in a wide variety of emergencies.
The newest, and largest, tool in their box is a 62-ft tiller truck, designed to provide better angles to attack structure fires, offer improved mobility in tight spaces, and increase Rocklin Fire's rescue capabilities.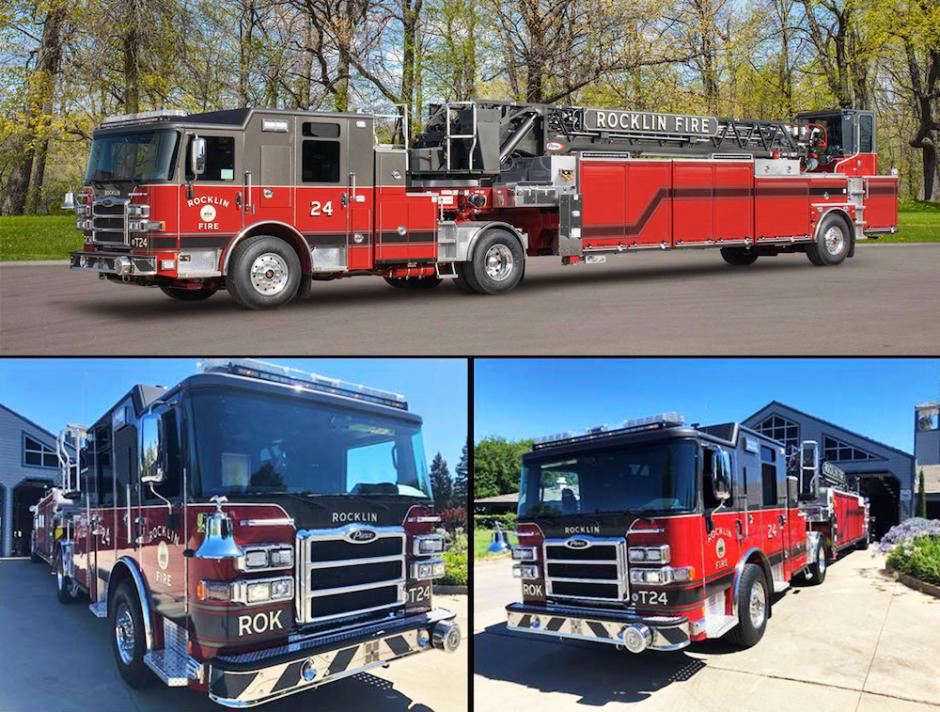 "The Rocklin Fire Department responds to the needs of the immediate emergency call and must also be prepared for the next one," Deputy Chief Shawn Watkins said. "The tiller truck will respond to most calls from Station 24 because we never know what the next emergency will be."
As Rocklin has grown, the height and density of residences and businesses has also increased, sometimes challenging the fire department's standard fire engines. The new tiller truck is equipped with a 107-ft ladder, giving firefighters the ability to effect quick rescue of trapped victims, access large commercial buildings and strip malls, and apply water from above even the tallest buildings in the City, which is the library and new five story parking garage at Sierra College. The tiller truck also carries equipment for trench rescues, swift-water rescue, high-angle rescues and extrication equipment for other various rescue situations.
While longer than the traditional fire engine, the tiller truck is more maneuverable. Its articulation allows the operators, consisting of a fire engineer in front and a firefighter in the rear to navigate the smaller streets and tighter turn radii found in some of Rocklin's newer developments.
The new tiller truck was purchased for $1.2 million, and has a recommended life span of 10 years as a front-line vehicle, with an additional five years used in a reserve role.
"The safety of citizens and staff is the Rocklin City Council's first priority and were pleased the tiller truck adds the latest in capability to Rocklin Fire's already world-class service," Mayor Jill Gayaldo said.
Look for the truck on the streets now and wave to the Rocklin firefighters as they conduct their business!