March 14 City Council Recap
2022 Fire Department Annual Report; Recognition of Outgoing Arts Task Force Members; Quarterly Financial Report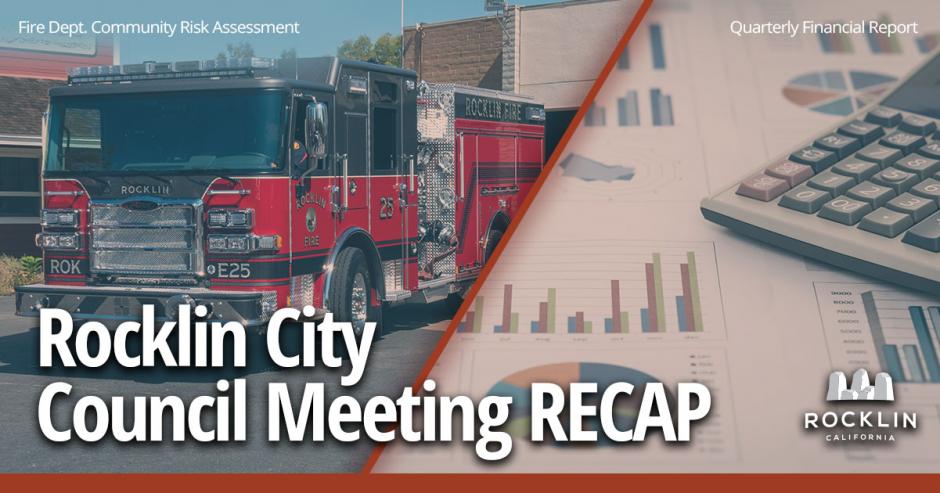 2022 Fire Department Annual Report
The 2022 Annual Fire Department report was presented by Fire Chief Williams to Council. In this annual report, Chief Williams provided an overview of fire operation and prevention services conducted throughout the 2022 calendar year. The Rocklin Fire Department responded to a total of 6,422 calls for service. Calls vary from fires, emergency medical services, service calls, hazardous conditions, and more. Emergency Medical Service (EMS) incidents accounted for 66% of Fire Department Activity in 2022. EMS incidents have seen a 2.3% decrease from 2021. Chief Williams shared data showing that most calls for service occur between 11am – 4pm on any given day. Each of the three Rocklin Fire Station respond to an equal amount of calls for service. The Fire Prevention Team is responsible for conducting annual inspections, business inspections, fire investigations, and more. In 2022, the Fire Prevention Team conducted 824 initial fire inspections. Additionally, the Fire Prevention Team attended 42 educational events including Patriot's Day, Civic Celebration, Hot Cars & Hot Chili, and more. Lastly, Chief Williams shared his appreciation for the Fire Department volunteers who support day-to-day success and provide high quality customer service to the Rocklin community.
Recognition of the Arts Tasks Force Members
Mayor Broadway recognized the outgoing Arts Task Force members with a certificate of appreciation for their dedication to serving the Rocklin arts community. The Arts Task Force was established as a voluntary panel to assist with recommendation, selection, and promotion of public art for both public and private development projects and Rocklin parks.
Council recently approved an ordinance to establish a City-based Arts Commission, which will build upon the successes of the Art Tasks Force and serve as its replacement.
Quarterly Financial Report
The City's quarterly report provides an overview of the City of Rocklin's current financial position. The City's finance division conducts quarterly evaluations of the City budget to ensure our actual performance is fiscally sound and to ensure any potential issues, which require action, are identified immediately. Finance staff reported that the City's year-end-net resources resulted in an increased one-time general fund budgetary resource. With the higher than expected one-time budgetary resources available, staff identified recommended adjustments to the set allocation percentages Council approved in the City Council Community Fund. Proposed commitments for the one-time funding include the Sunset Whitney Recreation Area (SWRA) Building Demolition, the additional of a future fire station, and more. Additionally, the Fire Department received a local grant fund from the Rocklin Public Safety Foundation to purchase five mobile, in vehicle radios, which improve communication tools with neighboring jurisdictions.