Leading Life-Science Company CPC Scientific Locates U.S. Manufacturing in Rocklin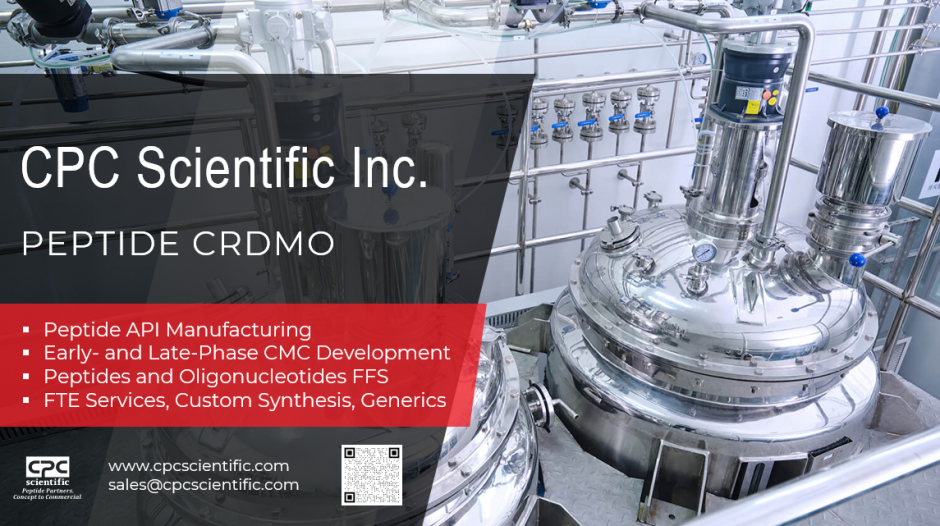 Rocklin, Calif. – CPC Scientific Inc., a leading global synthetic peptide production company that helps bring life changing therapeutics and diagnostics to market, has chosen Rocklin, CA, as the location of its new U.S.-based manufacturing site. The company will initially bring with them up to 50 high-quality life-science and manufacturing jobs.
The 41,000 sq. ft. facility in the Atherton Business Park will be utilized to manufacture clinical and commercial grade peptide products, increasing CPC Scientific's manufacturing capacity and diversifying their supply chain.
"CPC has helped many of our clients to bring an innovative drug into the market from a concept," said Shawn Lee, PhD, CEO. "With the new Rocklin site, we believe we will be able to contribute more, especially to the Northern American market, using our decades of peptide synthesis expertise to help our clients save lives and improve human health worldwide."
Peptide-based therapeutic candidates have been the fastest growing sector among all the chemical synthesized NCEs (New Chemical Entities) for new drug development in recent years.
For over two decades, CPC Scientific has been a reliable partner for their clients all over the world, including multinational pharmaceutical companies, biotech companies and academic institutions, by providing value-added one-stop-shop development and manufacturing services to support their clinical trials.
"The science may be complicated, but it's easy to understand how this life-science leader can help build this industry cluster in the region and attract more companies and high paying jobs," Rocklin Mayor Bill Halldin said. "We have enjoyed getting to know the CPC Scientific leadership as they finalized their choice of Rocklin and look forward to their continued success in biotechnology and life-sciences."
The new Rocklin CGMP facility is scheduled to be online and fully operational by 2023. With manufacturing operations in Hangzhou (CN) and Rocklin, CA (US), these facilities will enable CPC Scientific to help meet the growing worldwide demand for peptide-based therapeutics and diagnostics.
* * *
About CPC Scientific

Founded in 2001, CPC Scientific is a globally recognized and leading CRDMO specializing in synthetic peptide production, who is also expanding its footprint in synthetic oligonucleotides. The company works directly with leaders in the biotechnology and pharmaceutical industries to help bring life-changing therapeutics and diagnostics to market. CPC Scientific has the capability of serving customers from early drug discovery stages through clinical trials to commercial manufacturing and is proudly supplying commercial APIs to our partners all over the world. Dozens of isolated process and purification suites for peptide manufacturing enables simultaneous multi-Kg batch size projects. With an emphasis on technology, innovation, and experience, we are proud to have facilities inspected by many government agencies including U.S. Food and Drug Administration (FDA).
About Rocklin

Rocklin is the preferred location to live, work and play in Placer County and the Greater Sacramento area, providing the amenities of larger cities while maintaining a close-knit, small town feel.
Those who call Rocklin home enjoy schools consistently listed with the best in the Sacramento region. More than 49 percent of residents 25 or older hold a bachelor's degree or higher, according to the 2019 American Community Survey. Low crime rates and top-notch public safety departments have also placed Rocklin in the top 40 safest cities in California and made it one of Money Magazine's Top 50 places to live in the United States. It's also great for residents and visitors to know a park is located less than half a mile from every door in the city.