Keeping Rocklin Running
Rocklin Police Department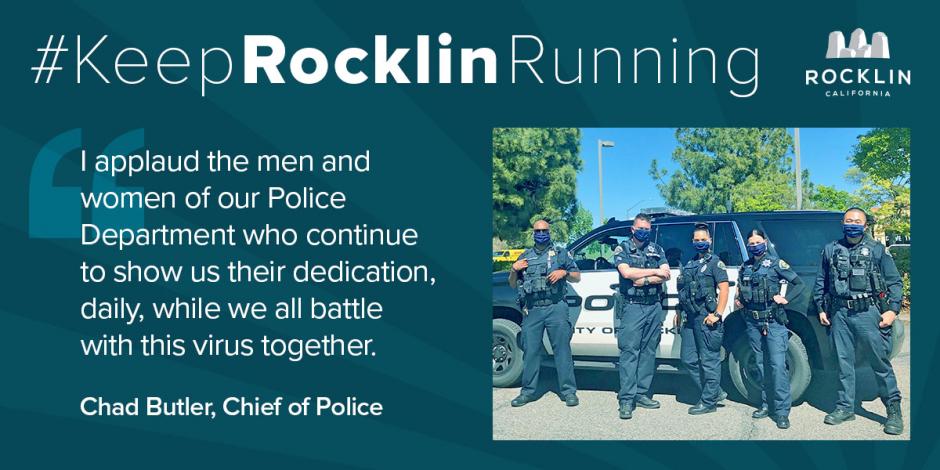 The men and women of the Rocklin Police Department, from the sworn police officers, to those working dispatch, records and all of the other professional staff positions and duties required to keep the police department functioning, are helping keep Rocklin's citizens safe and protected during the coronavirus pandemic.
"Despite this virus, the men and women of the Rocklin Police Department have risen to this challenge and are continuing to provide the excellent service that our community has become accustomed to. I applaud them for showing their dedication daily while we all battle with this virus together," Police Chief Chad Butler said.
All City employees are practicing CDC and Federal Guidelines to prevent the spread of coronavirus. This includes social distancing while on the job and working from home when possible. The Police Department lobby is open by appointment only, and regular non-essential events like ride-alongs and tours have been canceled.
"Our employees have been great about changing hours to best support the community. Everyone on our team has been flexible and has kept the quality of service as high as possible," Lieutenant Scott Horrillo said.
In addition to responding to regular calls for service, the Rocklin police department has been tasked with educating the public regarding the Placer County Health Order enacted by the Placer County Health Official. Educating the public is their ultimate goal while balancing the community's need to continue exercising while enjoying some quality time outside of their homes.
With a new online reporting form, officers have been able to respond to non-emergency crimes without coming into direct contact with residents. A number of professional staff employees are also able to keep department records updated and conduct analysis from home, only coming in to work when absolutely necessary due to the legal requirements of certain PD records.
Dispatchers are also able to social distance in their work environment and properly disinfect keyboards and other shared equipment between shifts.
Police officers always exhibit caution when responding to calls and have added personal protective equipment (PPE) and disinfectants to their normal routine. 9-1-1 callers can also expect to be asked a few additional, short screening questions regarding symptoms by dispatchers so responders can properly prepare.
"This is what I've signed up for. My job is to protect our officers, our dispatch team, and our City when there is an emergency," Public Safety Dispatch Supervisor Jennifer Gibson said.
The Police Department would like to remind you that as a community, we are all in this together. Protecting each other from viral infection ensures that we are doing our best to keep our community safe while "flattening the curve" (rate of infection), so that we can all get back to a semblance of normalcy in the near future.