Keeping Rocklin Running
Street Maintenance Worker Joe Farris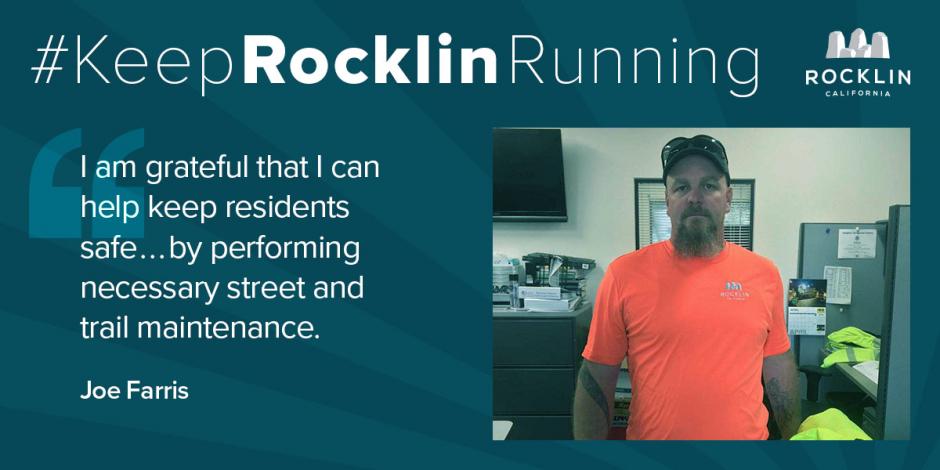 Street Maintenance Worker Joe Farris is part of the City's public services dept. team working to keep Rocklin's roads and walking trails well maintained during the coronavirus pandemic.
"I do my part to maintain the functionality and safety of walking trails, storm drains, and streets for Rocklin residents. My main priority is making sure everything and everyone is safe," Farris said.
With the heavy storm on the first weekend of April wreaking havoc on storm drains and trees, Farris and others were able to clear out grass and wood from four flooding City storm drains, relieving pressure on nearby creeks.
During the pandemic, two maintenance workers are scheduled each day to fill potholes that could prevent essential workers from making it to their destinations, rid walking trails of overgrowth that prevents exercising residents from practicing social distancing, and to clear out clogged storm drains that pose flooding hazards, among other necessities that may arise.
All City employees are practicing CDC and federal guidelines to prevent the spread of the coronavirus. This includes social distancing when possible while completing maintenance.
"I love this City, and I am grateful that I can help keep residents safe during the coronavirus pandemic by performing necessary street and trail maintenance. This job also allows me to support my family with three children during uncertain times," Farris said.