Junior Police Academy Invites Youth Behind the Blue Line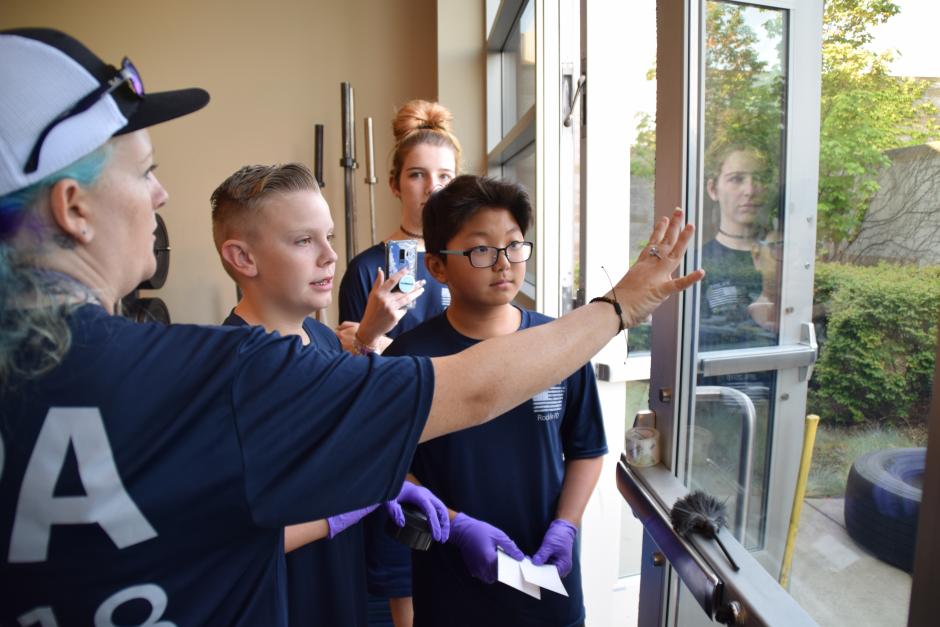 The job of a police officer requires a wide-range of skills, not the least of which include detailed observation, problem solving, and clear communication with the public. The 2018 Rocklin Jr. Police Academy provided a select group of local students the chance to experience these challenges first hand.
The Rocklin JPA consists of a week-long program of half-day lessons and activities designed to provide students with a better understanding of police work and pique their interest in law enforcement careers. Students see the K9 and SWAT programs up close; conduct mock low and high-risk traffic stops; learn the history of law enforcement; and much more.
During the crime scene investigation portion of the program, youth participants were tasked with responding to a staged incident at a gym where a fight had been reported. Students needed to quickly evaluate the situation, interview witnesses, catalog evidence, decide if a crime had been committed, and report the situation to their ranking officer.
Students quickly found that prioritizing tasks can be overwhelming, witnesses often provide contradicting statements, and that what at first appears to be a suspicious situation may only be a slip and fall.
Officer Duckham led the gym investigation exercise and told students that real situations are often very similar, requiring officers to use teamwork and problem solving skills to put all of the pieces of the puzzle together.
The JPA was started in 2016 by Sgt. Chris Osborne, who has experience as a school resource officer and sees the program as a great way to create meaningful relationships with local youth.
"Working with young men and women allows us to build a partnership on mutual trust, respect and fun," Osborne said. "Students see that officers are people just like them and after the program they share their positive experiences with their parents, friends and communities."
Dispatcher Ashely Burgers worked with Osborne to get the JPA up and running and knows personally about the benefits a program like this can provide.
"I joined a police cadet program when I was 15 years old and took part in it for three years. It was my start in law enforcement and assisting with this academy brings the experience full-circle," Burgers said.
On the day of their graduation, students were thankful for the opportunity and looked forward to giving back themselves.
"This program has definitely been worthwhile and it was great to experience what others interested in the field may not be able to," said Alexa Garcia, an incoming freshman at Rocklin High School. Garcia said she's eager for an exciting career in law enforcement, helping people and putting the safety of the public first.
The Rocklin JPA is a partnership between the Rocklin Police Department and the Rocklin Police Activities League. The activities league is a non-profit organization whose mission is to build trust and lifelong relationships between local youth and the Rocklin Police Department. For more information on the activities league, visit www.rocklinpal.org.