June 14 City Council Meeting Recap
Monument Springs Bridge Decision, Mosquito Update, Sierra College/PD Partnership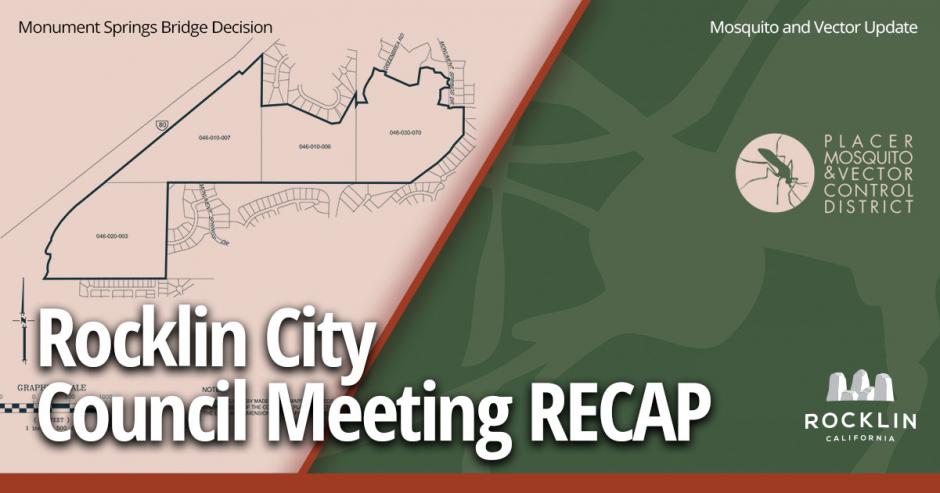 Monument Springs Bridge and Granite Lake Estates Decision
City Council approved modifications to the Granite Lake Estates residential project approval conditions, ensuring that no more homes will be built as part of this development prior to the completion of the Monument Springs bridge and roadway improvements.
Current residents had expressed concerns that without the bridge and roadway updates, traffic along the current roads could not be accommodated safely.
Mosquito and Vector Control Update
Placer Mosquito and Vector Control District Manager Joel Buettner provided the City Council with an update on their operations to manage mosquito populations and mitigate the risk of vector-borne disease.
They shared that drought conditions are often related to increased West Nile Virus activity, and nuisance mosquito biting.
Recommendations to reduce biting and the possible spread of disease include using an EPA-registered repellent and wearing protective clothing, maintaining property to minimize standing water, and to contact the district to report mosquito problems.
Watch the presentation at this link.
Sierra College and Rocklin PD Extend Security Partnership
Sierra College and the Rocklin Police Department have partnered since 2009 to provide police services to the Rocklin campus. The collaboration has allowed Rocklin officers to build relationships with students and staff, as well as provide a high level of safety and response to the college.
On June 14, the Rocklin City Council approved an agreement that will extend Rocklin police services at Sierra College for the next five years through June 30, 2027. This agreement for police services is designed to be cost neutral and allows the City to bill for police services rendered based on actual costs.
The agreement and more information can be found here.
***
Find the full June 14 City Council Agenda and links to the discussion items and videos here.