Jan. 11 City Council Recap
Solar Agreement for City Parking Lots, Property Maintenance and Off-Street Parking Ordinance Updates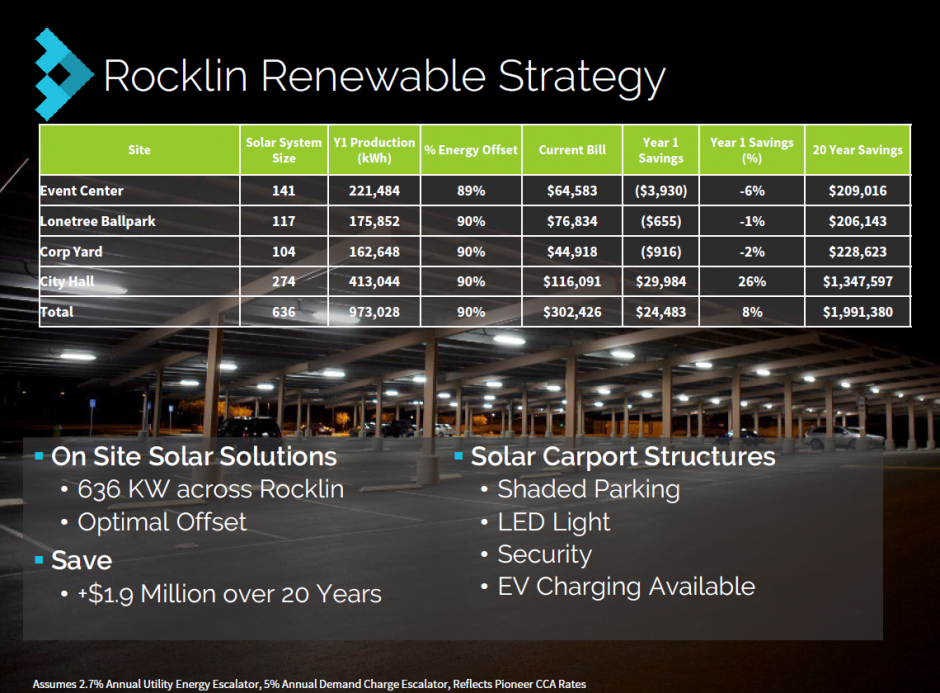 Agreements Approved for Solar Projects at City Parking Facilities
The Rocklin City Council approved an agreement with FFP BTM Solar (Forefront Power) to build and operate solar canopies in the parking lots at:
Rocklin Event Center
City Hall (Quarry Park Adventures)
Lonetree Ballpark (Kathy Lund Park)
Corporation Yard
The agreement estimates a utility bill savings of $24,000 in the first year of operation, with a total of $1.9 million over the life of the 20-year agreement. There will be no upfront costs to the City, with Forefront Power to design, finance, construct, operate and maintain the solar arrays. The City will pay a flat rate over the 20-year term to receive and purchase energy at the four locations from Forefront Power.
The installed solar carport structures will also offer shaded parking and enhanced lighting to provide additional security at night.
The California Public Utilities Commission (CPUC) plans to change the Net Energy Metering framework soon, which will significantly impact the viability of future net metered solar energy projects at City facilities. This agreement is the result of City staff efforts to secure legacy access to the current, more lucrative Net Energy Metering framework (NEM 2.0), to achieve sustainability goals and reduce energy costs through alternative energy sources.
Find more information on this item here
Standards for Property Maintenance, Graffiti Removal and Off-Street Parking Changing
City Council approved changes to City laws (also known as ordinances) that set new standards for property maintenance, graffiti, and off-street parking.
These "public nuisance" conditions, negatively affect the beauty of neighborhoods and can be detrimental to overall quality of life.
The changes will clarify standards for residents and be consistently enforceable by the City. Issues being addressed include enforcement of major automobile repair on residential property, clarifying a timetable and responsibility for removal of graffiti, and editing of confusing exceptions related to storage of accessory vehicles.
Law/ordinance changes must come before City Council twice before becoming law. The second reading of the new laws will be heard on Tuesday, Feb. 8, and then become enforceable 30 days later.
Options for Water Efficient Landscaping Discussed
Rocklin residents represent the largest group of Placer County Water Agency customers and with the drought conditions over the past few years (recent rains notwithstanding) the Council discussed options to encourage water efficient landscaping and save water.
PCWA currently offers three water efficient landscaping rebate programs including monetary assistance for lawn replacement, irrigation efficiencies and smart irrigation controllers. Council directed staff to engage PCWA to gather data on Rocklin's utilization of current water efficiency landscaping programs and to discuss ways the City and agency may be able to expand efficiency partnerships and funding.
Find the full Jan. 11 City Council meeting here, with links to staff report and video discussion of each item.