Feb. 22 City Council Recap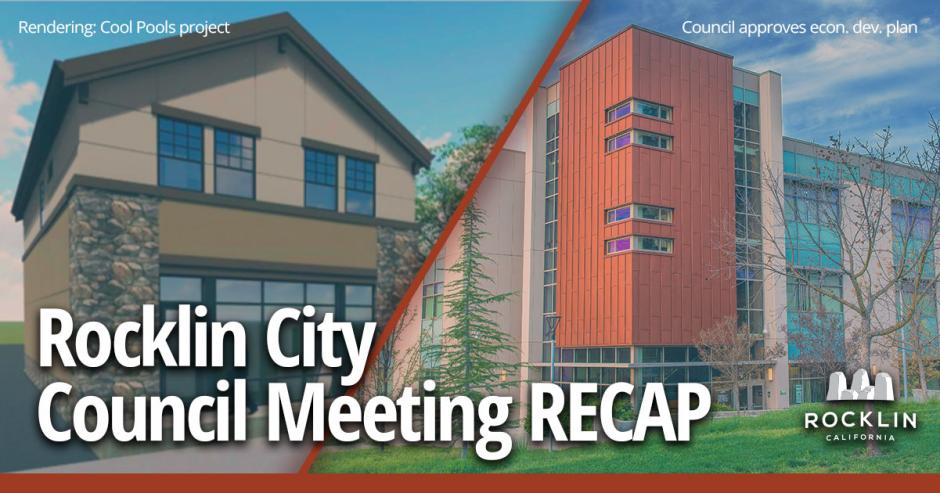 Initial Plans to Allocate American Rescue Plan Act Funds Approved
The Rocklin City Council approved a basic framework to spend more than $7 million in federal American Rescue Plan Act funds to support the community in continued recovery from the impacts of COVID-19.
$3.25 million of the funds will be used for community support, with a specific focus on business and nonprofit support.
Funds for internal support include $1.375 million towards making public health improvements towards public facilities, which include safer entryways, technology improvements to aid customer interactions, and improved air circulation through HVAC upgrades.
$2.4 million will be used as revenue loss, for the provision of government service. Examples of this include the provision of safety services and the construction and maintenance of roads.
Below lists the approved phases and allocated funds.
Phase One

Total: $3,400,000

Internal Support: facility improvements related to public health, technology improvements related to public health

Business support: restaurant support, small business and hotel support, capacity building grants, Quarry District revitalization, citywide commercial revitalization, Rocklin Chamber of Commerce small business assistance

Nonprofit support: grants to nonprofits, job training/upskilling

Phase Two

Total $3,639,025

Internal support: facility improvements related to public health, replace revenue lost

Business support: Rocklin Chamber of Commerce small business assistance, quarry district revitalization, citywide commercial revitalization
2022-2025 Economic Development Strategy
The draft economic development strategy presented to City Council on Tuesday night is designed to identify and leverage the strengths of the City of Rocklin and its public and private partners in order to foster a thriving business environment that is conducive to business growth, attraction and creation.
These efforts are an investment of public resources that can result in a strong and diverse business community by increasing employment opportunities, fostering higher wage jobs, and securing tax revenues that fund the City's high-quality public services.
The document includes strategies on:
Data
Business Retention and Expansion
Business Attraction
Fostering Local Entrepreneurship and New Business Formation
Workforce Development
Incentives and
Marketing, Promotion and Communication
Implementation of the 2022-2025 Economic Development Strategy will support the quality of life for Rocklin residents by enhancing the competitiveness of our local economy and maintaining a strong and diverse revenue and job base in the City.
Find Tuesday's presentation and copy of the draft plan here
Cool Pools Project Annexed
The Cool Pools project planned for 4865 Pacific Street took another step toward construction on Tuesday when the City Council annexed the parcel into the community facilities districts required to pay their share of costs for city services and infrastructure. The project plans construction of a 1,410 square foot, two-story mixed use building, to consist of a first floor office/garage/shop and a second floor residential apartment.