Construction for the Rocklin Road and Pacific Street Roundabout Project to start in Late Winter/Spring 2022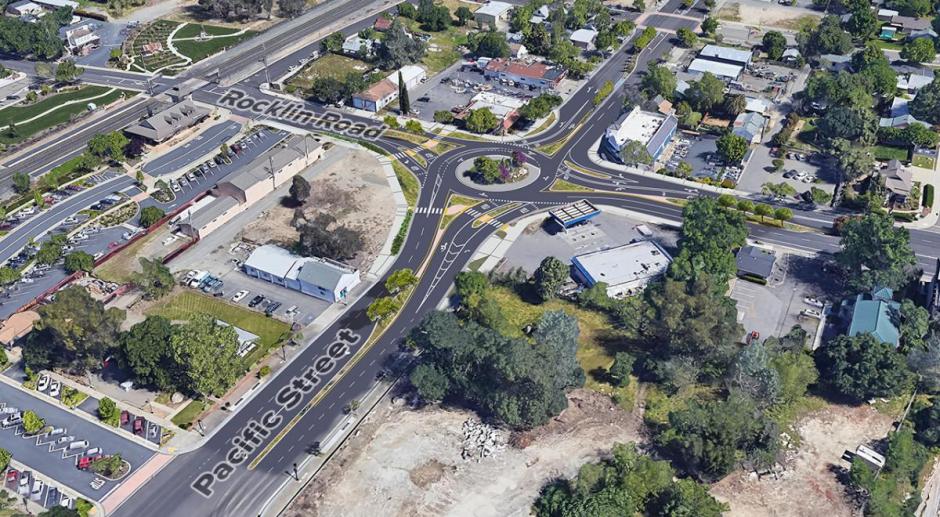 The City of Rocklin will replace the existing four way stop at the Rocklin Road and Pacific Street Intersection with a two-lane roundabout. Construction will begin in November and will extend along Rocklin Road from Railroad Avenue to San Francisco Street, and on Pacific Street from Oak Street to Bush Street.
"The proposed change will improve traffic circulation and access to community destinations in the Quarry District," said Keith Jukes, Associate Civil Engineer with the City of Rocklin. "The roundabout design was chosen because it reduces collisions and increases intersection efficiency."
In addition to installing a new roundabout, the City will construct an oval-shaped, landscaped island at the center of the roundabout, install a separate right turn lane outside of the roundabout for northbound and westbound approaches and reconstruct all four approaches from the intersection.
The project is 100% grant funded through a Congestion Mitigation and Air Quality grant of $4.7 million. Construction is planned to begin in mid-February 2022, not including weekends or weather delays, and is slated to end in fall 2022.
A project website was created at www.rocklin.ca.us/Roundabout where individuals can sign up for project updates.
Questions about the project can be directed to roundabout@rocklin.ca.us and by phone to the project hotline at (916) 775-7625.