Consider Elderly Residents During Coronavirus Pandemic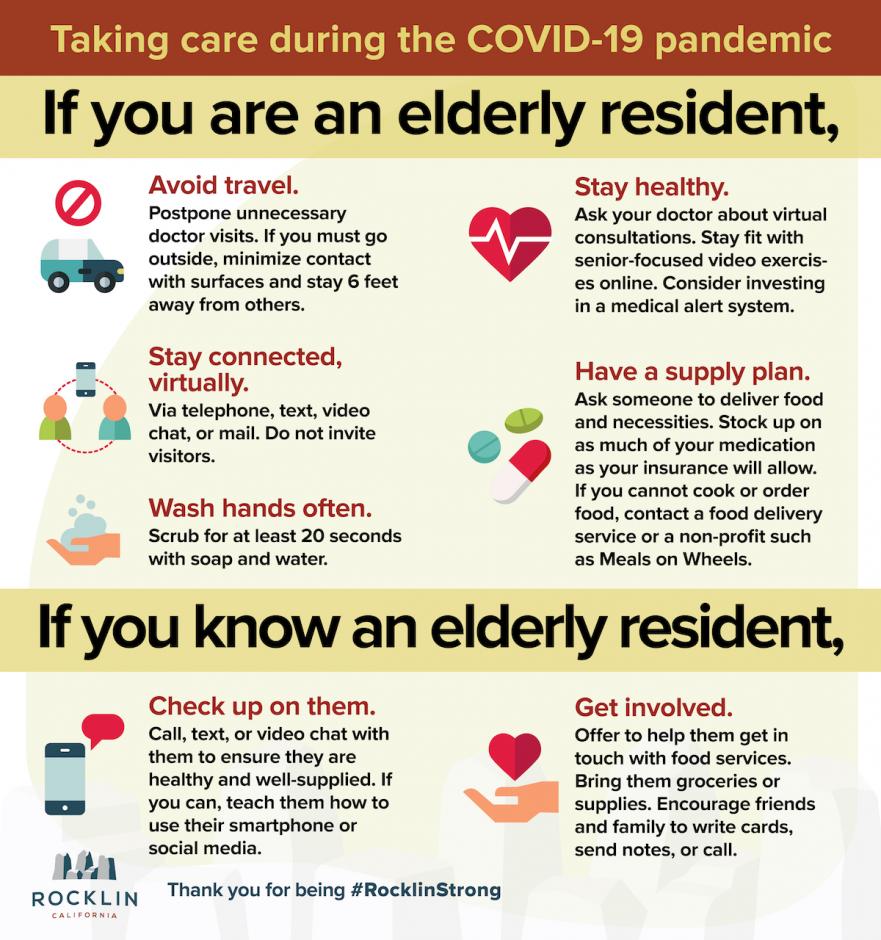 Taking Care During the Coronavirus Pandemic If You Are an Elderly Resident
AVOID TRAVEL
Postpone unnecessary doctor visits. If you must go outside, minimize contact with surfaces and stay 6 feet away from others.
STAY CONNECTED, VIRTUALLY
Via telephone, text, video chat, or mail. Do not invite visitors.
WASH HANDS OFTEN
Scrub for at least 20 seconds with soap and water.
STAY HEALTHY
Ask your doctor about virtual consultations. Stay fit with senior-focused video exercises online, such as the Go4Life series by the National Institute on Aging or Denise Austin's fitness series by AARP). Consider investing in a medical alert system.
HAVE A SUPPLY PLAN
Ask someone to deliver food and necessities. Stock up on as much of your medication as your insurance will allow. If you cannot cook or order food, contact a food delivery service or a non-profit such as Meals on Wheels.
Taking Care During the Coronavirus Pandemic If You Know an Elderly Resident
CHECK UP ON THEM
Call, text, or video chat with them to ensure they are healthy and well-supplied. If you can, teach them how to use their smartphone or social media.
GET INVOLVED
Offer to help them get in touch with food services. Bring them groceries or supplies. Encourage friends and family to write cards, send notes, or call.