Capitol Quarry Monument Commemorates Rocklin's Granite History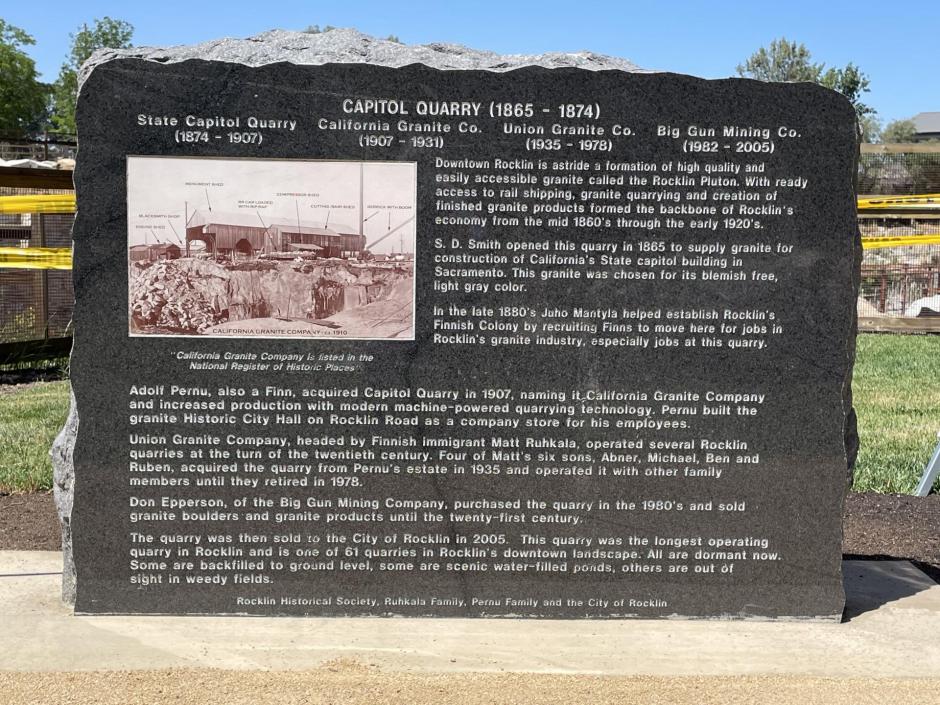 On Saturday, May 22, Dave Ruhkala stood at the top of the former Capitol Quarry, regaling a group of Rocklin Historical Society members, dignitaries, and Rocklin residents with one of his favorite stories of the site's granite mining past.
While the location behind Rocklin City Hall is now Quarry Park Adventures, for more than 140 years the site supplied granite for construction across California, including the State Capitol Building in Sacramento.
Ruhkala recalled a day from the 1970s, which included an annual visit from a state inspector. The inspector was speaking with Dave's father about the proper way for workers to exit the now 60-ft deep quarry, noting ladders along the sheer walls. The inspector also noted a pulley system used to lift large slabs of granite from the pit, and pointedly said how staff should never use it to make their way up.
Just as it was being explained staff would not think of doing such a thing, a slab of granite rose into their site line with a man astride it – one hand holding on to the pulley and the other smoking a cigar. Explanations ensued how this was highly unusual and would never happen again.
Priceless stories like these are the reason the Historical Society worked with the City to install a monument commemorating the Capitol Quarry granite operations and the men and women who worked there. The monument itself was dedicated on May 22, with Mayor Jill Gayaldo, Historical Society President Hank Lohse, and Diane Bell and Joanne Lawson, family of former quarry owners, also speaking to the nearly 50 people in attendance.
The monument features a photo of the historic granite-cutting shed (which was taken down in 2017 due to safety reasons) and outlines the history of the quarry dating back to its beginnings in 1865, through its final days as a granite mining site in the early 2000s.
The monument is located near the footbridge that connects Quarry Park to Quarry Park Adventures and overlooks the zip lines and ropes course. Visitors to the parks are encouraged to take a moment to read the inscription and learn about Rocklin's quarrying past.