Growing Up in Rocklin
Students Share What Growing Up in Rocklin has Meant to Them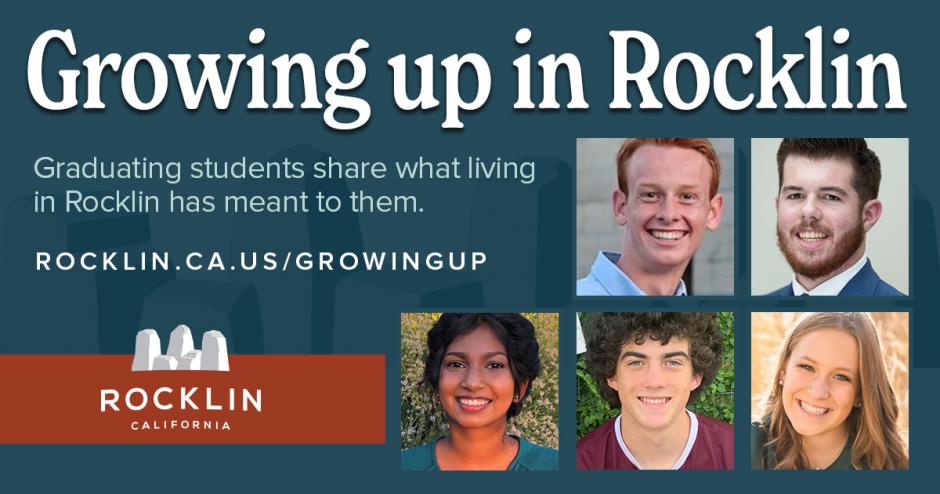 More than 1,000 Rocklin Unified School District students will graduate this week from the Rocklin Alternative Education Center, Rocklin High School, Victory High School, and Whitney High School.
"The Rocklin City Council and I would like to congratulate each and every one of these tremendous young people for their dedication and perseverance during what must have been one of the most difficult school years imaginable," Rocklin Mayor Jill Gayaldo said. "A special thank you to the families and friends of the graduating class is also in order, as we know the encouragement and support of loved ones throughout this phase of education and life is so important."
Rocklin is recognized nationally as one of the best places to live and raise a family, in large part due to the excellence of local schools. The quality of education offered by the primary, community college, and university institutions is second to none and is a determining factor for many people and business who choose to call Rocklin home.
This year, the Rocklin City Council personally funded small scholarship for four graduating seniors. As part of the application process, students shared a writing sample on what growing up in Rocklin has meant to them, with many reiterating RUSD's top notch instruction. Five exceptional statements have been posted online, two of which are from scholarship winners Andrew Price and Diego Sanchez.
Congratulations to the RUSD Class of 2021!