Capture Rocklin
Photo Contest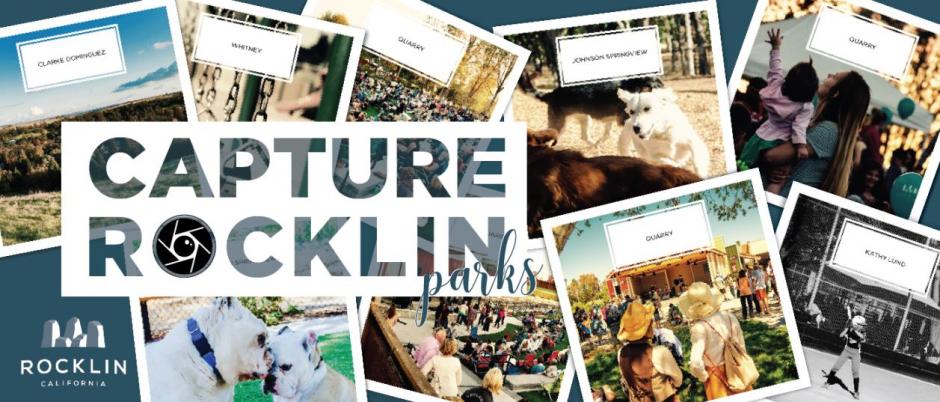 Who's ready to participate in a fun summer activity?! Now through September 30th you can take part in our "Capture Rocklin" scavenger hunt photo contest. Get the whole family involved (or neighbors, co-workers, friends, team-mates) in our 2019 "Capture Rocklin" photo scavenger hunt. There are fun prize packages up for grabs to those who complete the highest number of items on the list!
Click here to download your own copy of the scavenger hunt list!
Make sure to read the Official Contest Rules before starting your hunt.
HOW IT WORKS
-All photos must be taken in Rocklin.
-The more the merrier! Do this as a team… family, friends, colleagues. As many people as possible from the team should be in photos that require people.
-One-word clues are open to interpretation… be creative!
-Entries may be submitted in any ONE of the following ways:
A. Electronically in a .jpg by sending an e-mail to parks@rocklin.ca.us with the subject "capture Rocklin" and a team name or family name. image file names must correspond with the number of the clue on the list.
B. Printed photos may be dropped off or mailed to Rocklin Parks and Recreation Dept., 5460 5th St. Rocklin, CA 95677. Images must be named with team/family name, contact number, and corresponding clue number on the back of photos.
C. Images may also be submitted on a flash drive either dropped off or mailed to Rocklin Parks and Recreation Dept., 5460 5th St. Rocklin, CA 95677. Drive must be attached to paper with contact name and phone number.
-The five (5) teams with the most tasks completed will be entered to win a prize package.
-Watch our Facebook page for hints! Facebook.com/RocklinParksRec
-Common sense is required! Be respectful of people and property when taking photos. All posted rules and laws apply. This contest does not give you any special permissions. You may not interrupt the normal operations of a business. If clue includes an item that must be purchased, you must purchase the item, it's not free.
-All photos submitted for his contest become the property of the City of Rocklin and may be displayed publicly or used in Rocklin's publication or promotion.