Rocklin Offers Restaurants More Flexibility with Temporary Outdoor Dining Guidelines
Online Outdoor Dining Plan Form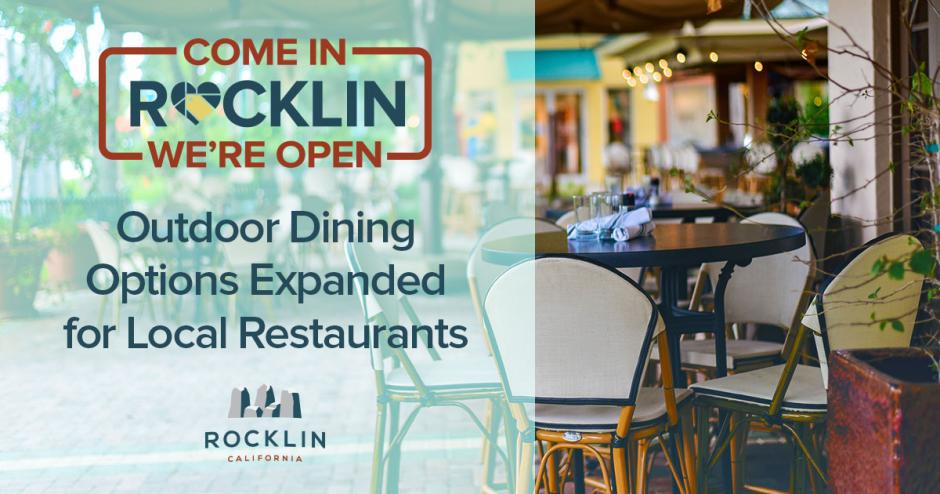 Placer County restaurants can once again provide dine-in service to customers, subject to adherence to health and safety guidelines provided in the county variance to Stage 2 of California's "Resilience Roadmap." The City of Rocklin would like to further support restaurants in the City boundaries by temporarily allowing the creation or expansion of outdoor dining areas to facilitate social distancing. This temporary allowance expires on August 31, 2020, unless extended by the City Council of the City of Rocklin, and is subject to the following guidelines:
Prior to creating an outdoor seating area, the business owner shall submit to the Community Development Department a dimensioned diagram of the outdoor seating area which indicates the number of tables and chairs and provisions for access, fencing, screening and shade, as applicable. This can be done using the online form below. The submission must have sufficient detail so that staff can determine the layout and location on the site.
The outdoor seating area shall be contiguous to the current occupied restaurant space.
The combination of outdoor seats and indoor seats planned for use under the new state guidelines shall not exceed the previously allowed occupancy limits.
Parking spaces may be used for dining tables, but there must be a physical barrier or separation to protect customer from vehicle traffic, such as bollards or planter boxes.
If the business owner is not the property owner, property owner approval shall be provided.
If the outdoor seating area extends into space occupied or otherwise used by an adjacent business, approval by the adjacent business shall be provided.
Outdoor tables and chairs must be placed on private property and not block or restrict access to or from any building and must comply with Building, Fire, Health, State and Federal codes and requirements as may be applicable. Tables must be spaced at least 6 feet apart and be on a paved surface.
The outdoor seating area shall be maintained free of trash and other debris.
If outdoor music is provided, it shall be as muted background music.
Any outdoor alcohol consumption shall be in compliance with the rules and regulations of the Department of Alcoholic Beverage Control.
Restaurants interested in taking advantage of this program can complete the form below or contact the Rocklin Community Development Department at (916) 625-5166 or by email at planner@rocklin.ca.us for approval.
There will be no fees for the review and the Community Development Department will strive to expedite the reviews and endeavor to complete reviews within two (2) business days of submission.