Everclear
Quarry Park Amphitheater
October 13, 2023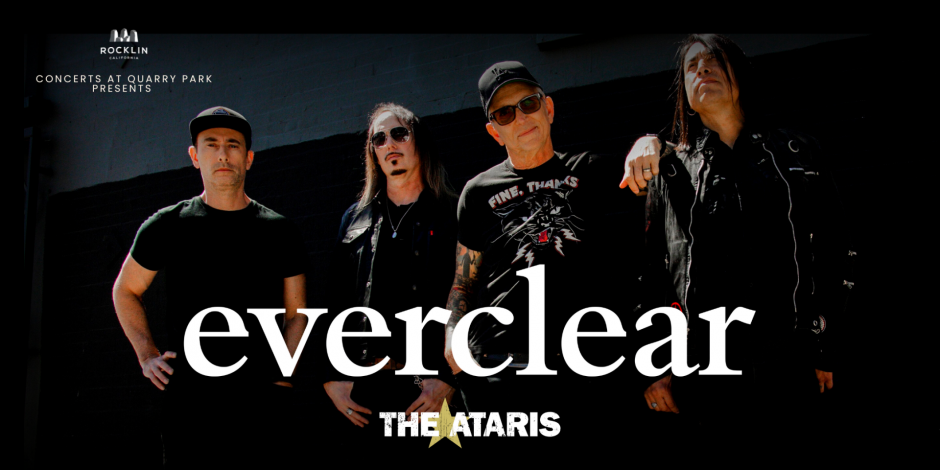 Finish off this amazing concert season with Everclear! Tickets on sale Friday, May 19, 2023 at 10am!

When: October 13, 2023 | 6pm – 10pm, gates open at 6pm
Where: Quarry Park Amphitheater, 4000 Rocklin Road, Rocklin, CA 95818
Tickets: Everclear1013.eventbrite.com
Parking: TBD
Venue Info: rocklin.ca.us/rules-regulations
ABOUT THE BAND - Everclear
Art Alexakis – Vocals, Guitar
Davey French – Guitar
Freddy Herrera – Bass
Brian Nolan – Drums
Considering Everclear has written and recorded some truly iconic '90s alt-rock hits, it would be all too easy these days for the band to be a victim of its past successes, relegated to performing as a glorified jukebox, existing to satisfy the nostalgic cravings of Gen Xers everywhere. But singer-guitarist Art Alexakis isn't about to start phoning it in now.
Everclear continues to tour extensively, and while it's a virtual surety that no Everclear gig is complete without a rendition of "Santa Monica" and "Father of Mine," lately the band has found that exploring the full range of past material—especially the "deep cuts"—not only gives fans a rare treat, it also injects new life into the band's live dynamic.
"By mixing it up and digging into the catalogue, it still makes it fun and relevant for us, and I think for the fans as well," says Alexakis. "It's still important to play the hits, but by playing those other songs as well, it makes it all seem more vibrant and real. Even though I recorded some of those songs 20 years ago, I haven't played them in a long time, so it's like reinventing the wheel. I'm having more fun now than I have in years. I think all of us are."
Formed by Alexakis in 1991 in Portland, Oregon, Everclear has enjoyed a lengthy career spanning 11 studio releases, numerous videos, thousands of shows and accolades that include a 1998 Grammy nomination. Like a true survivor, Alexakis has soldiered on through multiple lineup changes over the years: During the "classic" era, the band also included Craig Montoya on Bass and Greg Eklund on drums; the current touring lineup features longtime members Davey French (guitar) and Freddy Herrera (bass), as well as drummer Brian Nolan (also with American Hi-Fi), who has performed with Everclear on multiple past tours.
ABOUT THE BAND – The Ataris
Twenty-five years of traveling the world and five full length studio albums later. The Ataris songs are chock full of heart, vivid narratives and personal stories. Played loud and recorded completely organically, using honest vintage tones and the warmth of analog tape.
"Blue Skies, Broken Hearts…Next 12 Exits" proved to be the breakout album for The Ataris in 1999. It was the album that started to gain the band widespread acclaim and introduced scores of new fans to the detailed imagery, melodic hooks and heartfelt storytelling in their songs. Spawning fan favorites such as "San Dimas", "1/15/96″ and "I Won't Spend Another Night Alone", "Blue Skies, Broken Hearts…Next 12 Exits" remains to this day a solid introduction to the band's songwriting and nonstop D.I.Y. touring spirit.
"So Long Astoria" is arguably the most well-known album from The Ataris. Produced by Lou Giordano (Paul
Westerberg / Samiam / Goo Goo Dolls / Hüsker Dü) and released in 2003. It included the singles "In This Diary", "The Saddest Song" and their celebrated cover of the Don Henley anthem "The Boys of Summer".
The album entered the Billboard 200 charts at number 24 and has sold upwards of 850,000 copies, earning the band their first gold record. Punk News called the album "A landmark in their career'.
"So Long, Astoria" further expanded on the vivid narratives and brutally honest storytelling the band has become known for.
The Ataris are currently writing and recording new music for a yet to be titled sixth album while taking an extended three-year touring hiatus due to the ongoing pandemic.
The band plans to briefly come out of hibernation to celebrate the 20th Anniversary of their "So Long, Astoria" album with a very select handful of one-off festival dates in 2023.
These events will mark the band's first live performances of any kind since November of 2019 and will likely serve as their only concerts next year.
THANK YOU TO OUR SPONSORS!