Sierra Summer of Love
Quarry Park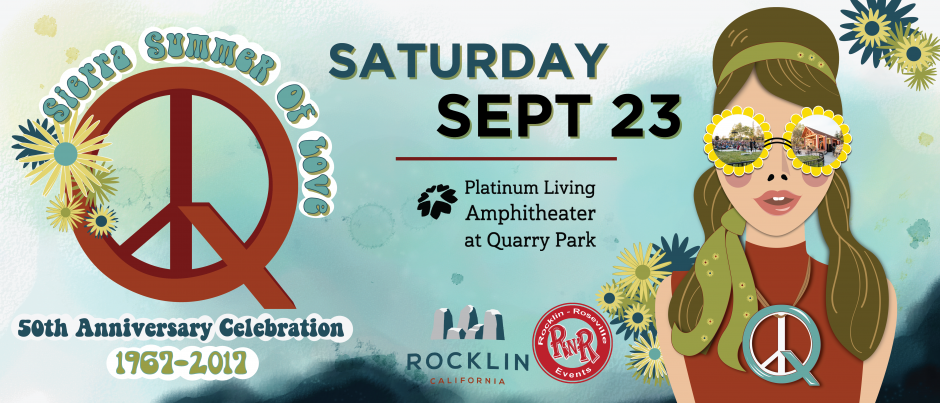 Take a 50 year step back in time when Quarry Park in Rocklin hosts an evening of tribute to the famed 1967 music movement dubbed "The Summer of Love".
Celebrating a time of peace, love, fashion, art, and new musical sounds, The San Francisco Summer of Love was one of the largest, most artistically influential movements ever to emerge from the West coast.
The Sierra Summer of Love Festival will carry on the spirit of the legendary fest by featuring the celebrated stage show "San Francisco's Summer of Love Revue." The Revue is not just a cover band playing the music of the 60's, but eight individual, fully costumed performances including; "Spirit Wind" as Santana, "Whole Lotta Led" as Led Zeppelin, "Experience Jimi!" as Jimi Hendrix, "Monday Monday" as The Mamas & the Papas, "Pearl Essence" as Janis Joplin," Cosmo's Factory" as Creedence Clearwater Revival and a spectacular liquid light show by "Grusome".
"An astounding recreation of that era" Kevin Nealon – comedian/actor, SNL, Weeds.
"Their commitment and generosity to the Psychedelic music phenomena is highly commendable" Linda and Jerry Bruckheimer – Bruckheimer films, Pirates of the Caribbean, CSI, etc.
"Man, I thought I was there all over again!" Old hippie dude surfer, Malibu, California.
The event will also feature niche' vendors, delicious food truck options and a beer & wine bar for the adults. Attendees are encouraged to dust off that peace sign necklace or pull out those old bellbottoms. After all, this is the movement that created who we now know as "hippies"!
WHEN: Saturday, September 23, 2017 5:00 pm – 10:00 pm. Gates open at 5 p.m.
LOCATION: Platinum Living Amphitheater at Quarry Park, 4000 Rocklin Road, Rocklin, CA 95677
TICKETS: Tickets are on sale 8/21 at summeroflove.eventbrite.com. There is a limited amount tickets for early birds and friendly-four packs.
All ticket sales are final and non-refundable. Refunds are only issued if an event is cancelled. Events are rain or shine.
FOOD TRUCKS:
Jersey Mike's Subs
Between The Bunns
BAK Family Farm
Rainbow Snow Shaved Ice
Curry Bowl.
RULES & REGULATIONS: Read this rules & regulations to find information about approved lawn chairs, beverages, and more.
PARKING / DROP OFF LOCATIONS: Find where to park and the drop-off locations in the Quarry Park Parking Map. $5 Parking fee. [View Map]
BAR: Cash only, an ATM will be onsite.
FACEBOOK: Follow this event on Facebook for up-to-date info!
Thank you to our partners!

Thank you to our sponsors!