Rockin' The Quarry
Quarry Park Amphitheater
May 20, 2023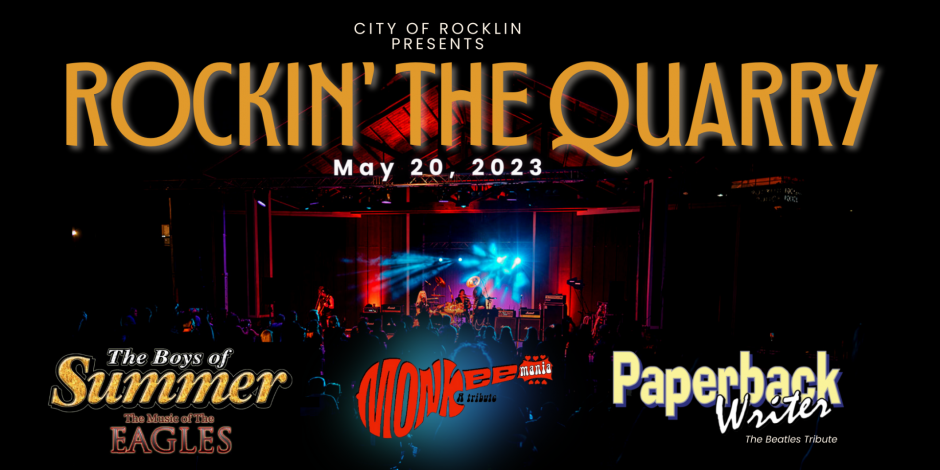 Join us for a fun night of great and classic music from the Eagles, Monkees, and The Beatles from these amazing tribute bands!
When: Saturday, May 20 2023 | 5pm – 10pm, gates open at 5pm
Where: Quarry Park Amphitheatre, 4000 Rocklin Road, Rocklin, CA 95818
Tickets: https://May20th.eventbrite.com
Parking: Plan out your parking ahead of time by purchasing now! Parking520.eventbrite.com
Venue Info: rocklin.ca.us/rules-regulations
Food Vendors:
THE BOYS OF SUMMER EAGLES BAND
The Boys of Summer Eagles Band hail right from Southern California. They grew up there and all have Eagles blood running through their veins. They re-create some of the greatest music ever written. With well over 400 high profile shows throughout the U.S. since 2004, BOS are becoming known as the top touring Eagles Tribute band in America. The Eagles themselves sold over 120 million albums worldwide, and their music brings instant fond memories to the millions who bought their records and attended their concerts. Get on down to one of their shows, and you'll likely find yourself thinking the same as thousands before you."Close your eyes, and you're there."
MONKEEMANIA
"Hey Hey we're the Monkees" sets the stage for "Monkeemania" a true-to- form authentic tribute to The Monkees. This show features the music from one of the most popular television and musical group of the 1960's The Monkees. Right down to the classic 8 button shirts, this show captures the look and sound spot on! What did real Monkee Peter Tork say when he performed with Monkeemania ? "Wow these guys sound just like we did". Then straight back to the Summer of Love with the greatest hits of the 60's from The Stones, The Turtles, The Byrds, The Beach Boys, Beatles and so much more ! Take a trip back to circa 1967,68,69 with The Summer of Love Show and Monkeemania.
PAPERBACK WRITER THE BEATLES EXPERIENCE
Featured at Disneyland, Disney Cruise Lines, 4 other major cruise lines, major theaters, and casinos worldwide, Paperback Writer -The Beatles Experience from Los Angeles, California has taken their show to 33 countries and over 29 states to standing ovations audiences worldwide. The "go to" Beatles show for Disney and Hard Rock Resorts, this show is second to none! Hear the hits from the Ed Sullivan Show through the colorful Sgt. Pepper's years and on to the roof tops of Let It Be performed with "spot on" vocal, look and sound alike ability. Beatles 1964/65 Hollywood Bowl producer celebrity Bob Eubanks (Newlywed Game) personally endorses this show saying is nothing less than "Sensational!"
THANK YOU TO OUR SPONSORS!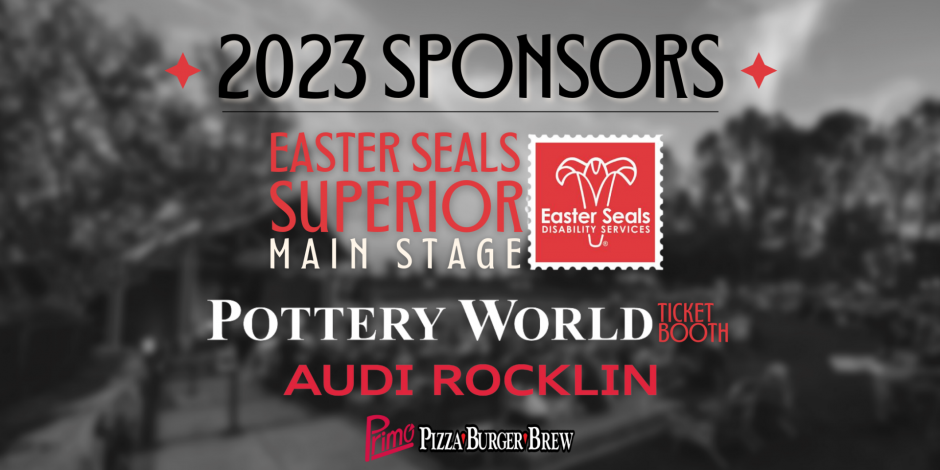 IMPORTANT INFO:
Accessible Event Notice: Concert is accessible to persons using wheelchairs and others with disabilities. Informational material is available in large print. Assistive listening devices, materials in other alternative formats, American Sign Language interpreters and other accommodations will be made available upon request. Contact Parks & Recreation Office at (916) 625-5200 or recreation@rocklin.ca.us, providing at least 72 hours' notice (or two weeks' notice for American Sign Language interpreters) will help to help ensure availability. For inquiries or requests for accommodations, please call: (916) 625-5200