Easter Egg Hunt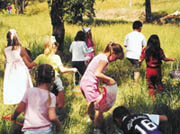 The Rocklin Firefighters host their annual Easter Egg Hunt on Easter Sunday each year. The event will take place promptly at 1 p.m. at Johnson-Springview Park, 5480 5th St., Rocklin. Please arrive early for parking.
When: April 12, 2012 - Easter Sunday at 1 p.m.
Where: Johnson-Springview Park | 5480 5th St. Rocklin, CA 95677
Cost: FREE and open to children ages 10 and under. Age groups are broken up into 0-1, 2, 3-4, 5-6, 7-8, 9-10 all in separate zones. Parents are not allowed to help in the older zones.
Contact: (916) 625-5300