Craig Campbell with Rachel Steele
Quarry Park Amphitheater
July 29, 2023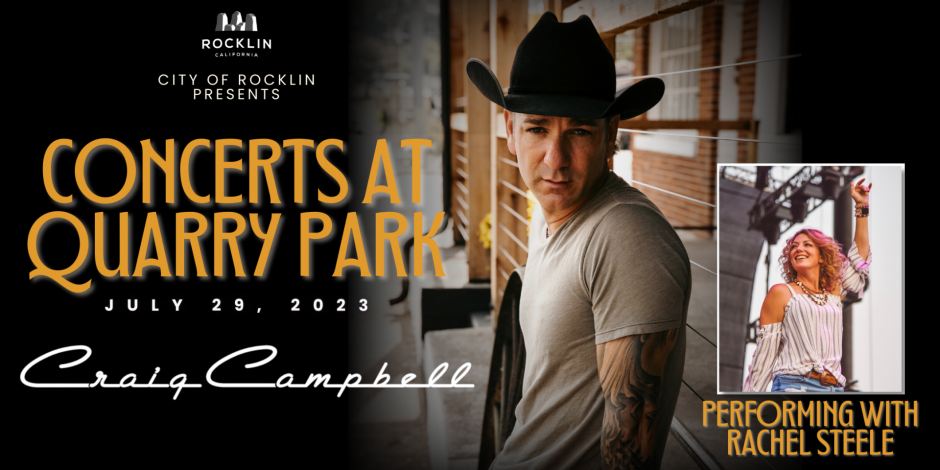 Country is back at Quarry Park! Join us for a night of great county music with Craig Campbell! Opening for him is the wonderful Rachel Steele!
When: Saturday, July 29 | 6pm – 10pm, gates open at 6pm
Where: Quarry Park Amphitheatre, 4000 Rocklin Road, Rocklin, CA 95677
Tickets: RocklinJuly29.eventbrite.com
Parking Pass: Craig Campbell parking 7.29.2023
ABOUT THE ARTIST
His first single, the sentimental ballad "Family Man", hit the top 15 on Billboard's
Country Airplay Chart in 2011. "Outta My Head" also cracked the top 15, while
the catchy tune "Fish" garnered more than 10 million on demand streams. His
2014 breakout hit "Keep Them Kisses Comin'" was on its way up the charts when
Campbell got the unexpected call that after two albums and a string of hits,
Bigger Picture had closed. However, Campbell and his devoted team continued
to press radio stations around the country, so much so that the single ended an
impressive run well inside the Top 10, which is unheard of for a song with no
financial backing.
Another door opened for Campbell in the form of Red Bow Records, a division of
the Broken Bow umbrella. "Tomorrow Tonight" made it into the top 40, followed by
perhaps his most poignant and well known work to date, "Outskirts of Heaven."
"Outskirts" took on a life of its own, showcasing Campbell's vulnerability and
deep rooted faith. The uplifting and remarkably personal ballad was praised
by Rolling Stone and Taste of Country, among others.
The impact of "Outskirts" prompted media appearances and memorable
performances at nationally televised NFL games, the TODAY show, CMA Fest,
and the Grand Ole Opry, the latter of which he has made over 50 appearances to
date. And in a full circle moment, the down home Georgia boy reunited with
buddy Luke Bryan on his highly successful 2017 Huntin', Fishin', and Lovin'
Every Day Tour.
In the summer of 2018, Campbell released his first new music in five years with
his "See You Try" EP on Broken Bow. The title track became an instant crowd
pleaser with its confident, flirty lyrics and boot stompin' melody. The EP also
found a home for both an electric and acoustic version of "Outskirts of Heaven."
But by August of 2018, Campbell and Broken Bow had mutually parted ways,
leaving the door wide open for new and long-awaited opportunities.
Those opportunities include realizing a longtime dream of opening a coffee shop
– The Grindstone Cowboy – with his wife Mindy and their daughters Preslee and
Kinni Rose in their adopted hometown of Eagleville, Tennessee. He also started
signing and producing new artists to Grindstone Records, including Cody Cozz
and Ethan Payne.
"I've been recording and producing music my way, and that includes things I've
never done before, like playing piano and producing. I'm not gonna even
entertain the idea of recording any song if it doesn't give me chills, and the same
goes for artists we sign to Grindstone Records. I have to be proud of it. I have to
answer for it and it has to get me fired up," Campbell reflects in his deep-rooted
Southern accent. "Man, oh man . . . . I love where I am!"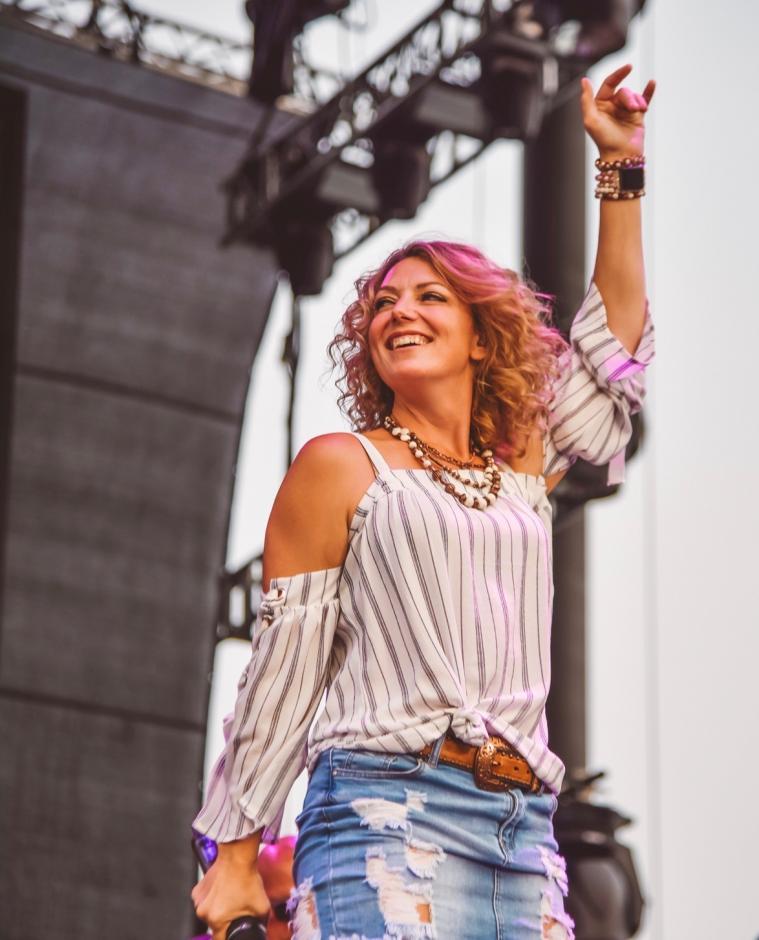 ABOUT RACHEL STEELE
Rising country music artist Rachel Steele brings a special energy and attitude to everything she touches, including her debut country radio single, "Here to Get My Stuff The release has quickly struck a chord with radio programmers, landing on the Music Row Country Breakout Chart and receiving play on more than 80 stations nationally; impressive accomplishments for an independent artist.
Now based in Sacramento, Rachel Steele grew up in a small town in Northern California, where she was immersed with music at an early age, singing barbershop harmonies with her mother, aunt and grandmother. Country artists like Shania Twain, Martina McBride, the Dixie Chicks and Amy Grant were big early influencers who have played a part in Steele developing her own personal style.
Debut country radio single: "Here to Get My Stuff"
New EP release: Stupid Love
EP was produced by country music great Bobby Randall, a founding member of iconic country band Sawyer Brown.
Touring credits: Rachel Steele has opened shows for Brad Paisley, Big & Rich, Alabama, Thompson Square, Jon Pardi, Trace Adkins and many others.
A national radio promotion tour is currently underway, with live on-air radio performances and other events in tour markets.
THANK YOU TO OUR SPONSORS!