Caltrans to Hold Free Clean California Dump Day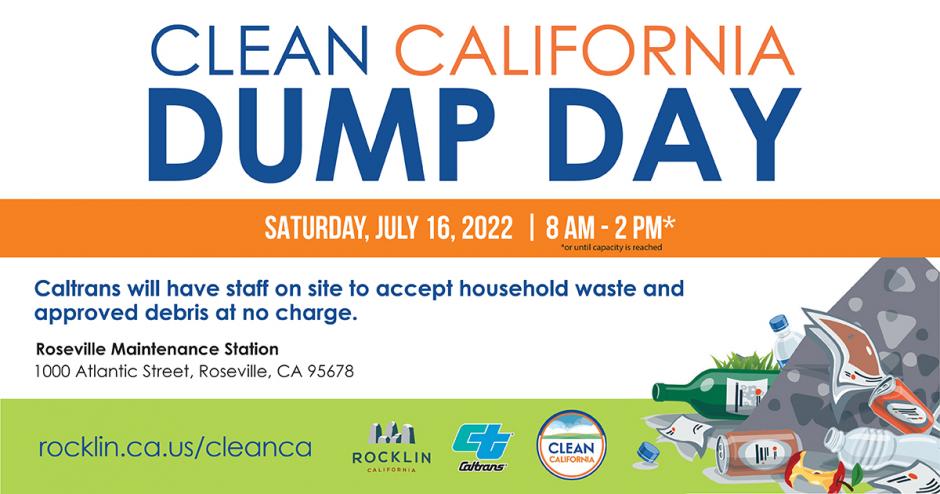 As part of the Clean California Initiative, Caltrans will host a cleanup day to accept household waste and approved debris at no charge.
WHEN: Saturday, July 16, 2022
WHERE: Roseville Maintenance Station (1000 Atlantic Street, Roseville, CA 95678)
TIME: 8 a.m. to 2 p.m. (or until capacity is reached)

The following items will be accepted on a limited basis:
General Household Garbage and Waste – metal, plastic, fiberglass, fabric, glass, untreated wood, and landscape trimmings
E-waste (up to 4 each) televisions, computer monitors and accessories, VCRs, CD/DVD players, stereo equipment, microwaves, etc. per vehicle
Tires (up to 6 each) per vehicle – tires must be removed from wheels
Concrete, dirt, rocks, asphalt, sand, brick or construction materials (up to 1/2 yard) per vehicle
Mattresses, box springs, and futon mattresses – detached from frame or base (up to 4 each) per vehicle
Household Appliances
The following items will NOT be accepted at this event:
Treated wood waste
Asbestos of any type
Compressed gas
Hazardous waste of any type including paint, batteries, oils, acids, aerosol cans, household chemicals, corrosives, or hazardous bases.
For more information about Caltrans' commitment to a cleaner California, visit cleanca.com.