Big Sam's Funky Nation
Quarry Park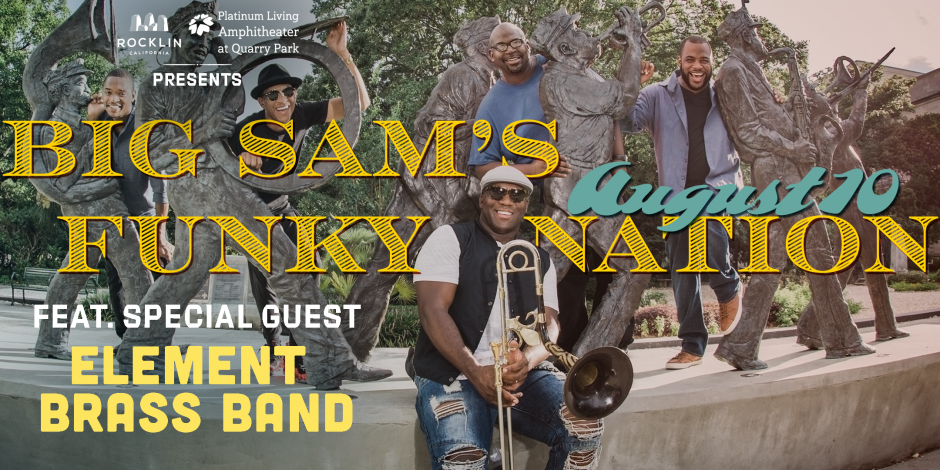 Funk-rock blues served up New Orleans style at Quarry Park's first dance party! Get a second chance at that Mardi Gras spirit this year with one of the South's hottest bands!
"If you come to a show, you're going to party. That's what we're here for." – Big Sam
WHEN: Saturday, Aug. 10, 2019 7:00 pm - 10:00 pm. Gates open at 7 p.m.
LOCATION: Platinum Living Amphitheater at Quarry Park, 4000 Rocklin Road, Rocklin, CA 95677
TICKETS: Tickets on sale Friday, April 12 at FunkyNation.Eventbrite.com
Use code QP5OFF for $5 off, limited time only!
SEATING CHART: For reference of seating locations within Quarry Park, please check HERE.
All ticket sales are final and non-refundable. Refunds are only issued if an event is cancelled. Events are rain or shine.
FOOD TRUCKS:
RULES & REGULATIONS: Read this rules & regulations to find information about approved lawn chairs, beverages, and more.
PARKING / DROP OFF LOCATIONS:
BAR: Beer & Wine sold to 21+ with valid ID. Credit card and cash accepted.
____________________________________________________________
BIG SAM'S FUNKY NATION – Platinum Living Amphitheater Main Stage
When you think of New Orleans, the city's foremost flambeaux-lit traditions of Mardi Gras, Bourbon Street, voodoo, Po' boys, beads, gumbo, and second line undoubtedly come to mind. You can also count Big Sam's Funky Nation amongst those NOLA treasures.
Known for a boisterous blend of funk, jazz, rock, and hip-hop, nothing short of seismic live "experiences," and a whole lot of Southern charm, Big Sam's Funky Nation might very well be The Big Easy's best kept secret.
No other place could birth such an undeniable, unpredictable, and downright unique collective.
"By playing on these streets, you learn how to work your craft and entertain an audience," exclaims Sam. "You can go to Julliard and Berklee all you want, but they won't teach you how to rock a stage. It comes naturally in New Orleans. I've been here my whole life and rocking these streets. Even during Hurricane Katrina, I drove nine hours from San Antonio every weekend for two years just to play live. The sound out here is unlike anything else in the world. It's not just a figure of speech—there's music going all night, literally."
Against the backdrop of Crescent City, the group released five fan favorite albums and quietly developed a devout following. Powered by jaw-dropping technical talent and uncontainable energy on stage, their performances have become the stuff of legend. Big Sam ensures you're not just a part of the crowd, but "a part of the show dancing and singing along." Beyond standout sets at the likes of Voodoo Music + Experience and New Orleans Jazz & Heritage Festival, the boys have performed at Bonnaroo, SXSW, and Austin City Limits, to name a few.
The frontman personally draws on over two decades in the game, spanning everything from 300 shows per year during his days in Dirty Dozen Brass Band and gigs backing up Widespread Panic and Dave Matthews Band to recording and touring with Allen Toussaint and Elvis Costello. Additionally, he would be sought out for a recurring role on the critically acclaimed HBO series Treme.
Following the release of 2014's rock-leaning Evolution (and yet another marathon of gigs), Big Sam wanted to "bring the funk like never before." So, he decided to "write originals that show how cats like Morris Day & The Time, The Gap Band, P-Funk, inspired [him]—while not just repeating the past."
The group accomplish this mission on their aptly titled 2018 sixth full-length Songs in the Key of Funk, Volume 1. Spending just five days at The Parlor Recording Studio in New Orleans, Big Sam's Funky Nation emerged from the studio with an album tailormade for singing, dancing, and, of course, partying.
"We're going to keep the funk alive," he affirms. "This is just Volume 1. It's just the beginning. Stevie Wonder made one of my favorites: Songs in the Key of Life. I thought it would be hip to build on the title. Funk is life for me. Funk is everything. We all need some of it in our lives, so guess who's here to give it to you?"
Funk is served up piping hot on the first single "Poke Chop." On the track, a simmering beat punctuated by seventies-style synths gives way to lively horns, handclaps, and howls. Merging bounce energy and jazz virtuosity, the call-and-response culminates on Big Sam chanting a hometown phrase, "Show me what you got for a poke chop."
Elsewhere, "Buzzin" shimmies from talkbox into swaggering clean guitars. Painting a vivid picture of hot and heavy love at first sight on the dance floor, the frontman croons, "Girl, you got me buzzin."
As much as Big Sam's Funky Nation represents the beating heart of New Orleans, they ultimately do so for funk music as well.
"When you see us live or listen to our records, we're all going to have a good time," he leaves off. "That's what funk is all about. That's what New Orleans is all about. That's what Big Sam's Funky Nation is all about. If you come to a show, you're going to party. That's what we're here for."
"Big Sam" Williams – trombone, lead vocals Drew "Da Phessah" Baham – trumpet, vocals Jerry "JBlakk" Henderson – bass Keenan "Butta Cream" McRae – guitar Alfred "Sgt Gutta" Jordan – drums Kendrick Marshall – keys
With Special Guests ELEMENT BRASS BAND – Brower Mechanical Firehouse Stage!
(youtube ID: sxaS7j0iuS0)
Sacramento's Element Brass Band will make you MOVE! E.B.B. are the premier group on the West Coast for New Orleans Second Line. The band recently released their second album, "Cali Got A Brass Band" in 2018. Element have toured New Orleans, New York City and Atlanta, and have performed at many venues including the High Sierra Music Festival, Guitarfish, the Fillmore, the New Parish, The Boom Boom Room, and Ace Of Spades. Element has opened for GZA of the Wu-Tang Clan, Blackalicious, Andy Frasco, The California Honeydrops, Turkuaz, Angelo Moore of Fishbone, DJ Logic, New Kingston and many others. E.B.B. have twice been given the accolade of 'Best in Jazz' at the Sacramento Music Awards, and their momentum shows no signs of slowing down!
____________________________________________________________
Accessible Event Notice
Concerts at Quarry Park are accessible to persons using wheelchairs and others with disabilities. Informational material is available in large print. Assistive listening devices, materials in other alternative formats, American Sign Language interpreters and other accommodations will be made available upon request. Contact Kevin Huntzinger, 916.625.5269, Providing at least 72 hours' notice (or two weeks' notice for American Sign Language interpreters) will help to help ensure availability.
In order to assist the City's efforts to accommodate persons with severe allergies, environmental illness, multiple chemical sensitivity or related disabilities, attendees at public meetings are reminded that other attendees may be sensitive to various chemical based scented products. Please help the City to accommodate these individuals.
Accessible parking is available at: City Hall Parking Lot
For inquiries or requests for accommodations, please call: (916) 625-5200
____________________________________________________________