Run Rocklin Focused on Community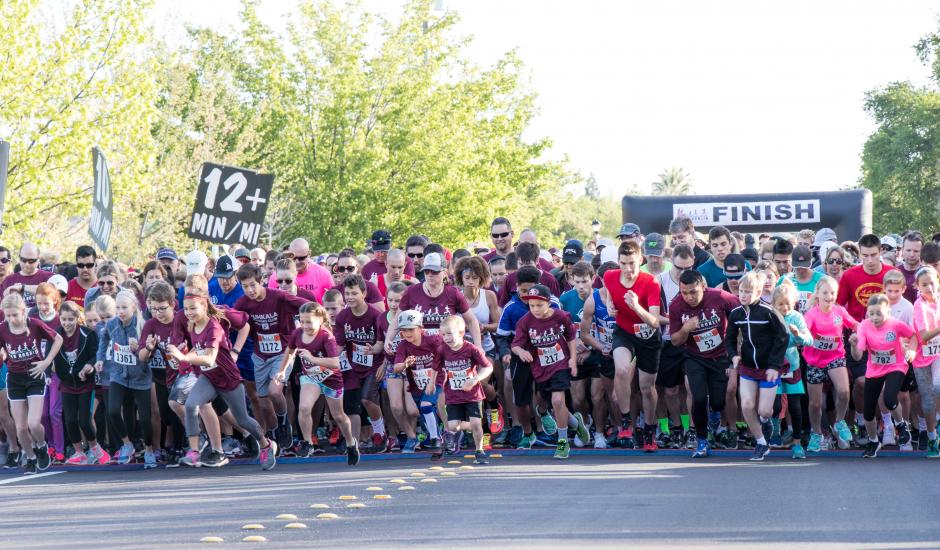 Nearly three thousand people will race near Johnson-Springview Park on April 7 for the 16th-annual Run Rocklin event, with all the proceeds benefiting local charities. Participants can choose the 5k, 12k, or half-marathon option, and there are even two free kids' runs.
The focus of Run Rocklin isn't on athleticism or endurance; rather, the race is a fun and healthy way for people to connect with friends and family and raise money for a good cause.
Run Rocklin owner and longtime runner Larry Osborne believes that the heart behind the run is the area's sense of community, and it shows with one-third of racers registering as part of a team.
"If you live in Rocklin, come run; if you don't, come to Rocklin for the community aspect," Osborne said. "The hope is you enjoy a walk with your 2,800 new best friends."
Run Rocklin (originally named Rocklin Run for the Gold) began in 2004, just as the Old St. Mary's Chapel was slated for demolition. The first race helped raise funds to move St. Mary's to its current location where the Rocklin Historical Society restored the city's oldest building.
Today, Run Rocklin primarily supports the Matt Redding Foundation, which provides scholarships to local high school graduates intent on pursuing careers in medicine or public safety. A former police officer himself, Osborne is proud of the many public safety groups that participate and the community's strident support of law enforcement.
Other local charities and non-profit organizations can benefit from the race, too, with groups over 20 people automatically receiving a $5 per-person donation to their charity of their choice. The three largest fitness teams and schools are also awarded additional funds.
The entire community is encouraged to cheer on the runners and take part in the finish line expo featuring local businesses and fun for the kids. Register today at RunRocklin.com and take advantage of participant-friendly policies including a fixed ticket price, no service fees, and free access to race photos posted online after race day.