Rocklin Firefighter-Paramedic Recognized for Life-saving Service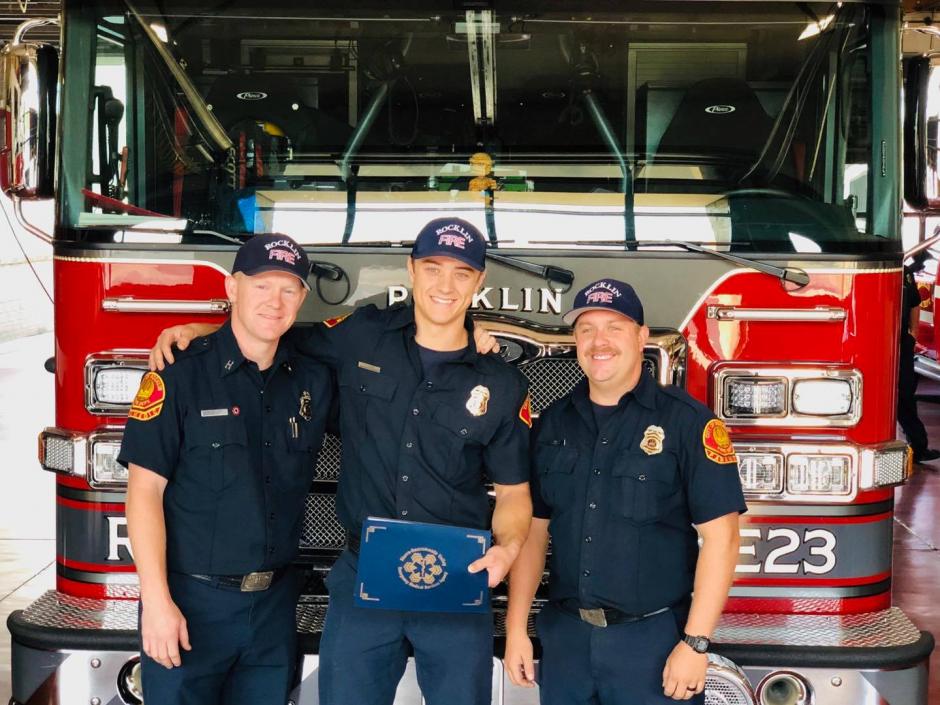 Rocklin Firefighter-Paramedic Jesse Llopis was recently recognized for actions that saved a hiker's life.
The Sierra-Sacramento Valley EMS presented Llopis with an Outstanding Service Award for quickly accessing a patient and providing immediate critical care despite being in a wilderness area.
While assigned to a Colfax CalFire station as part of contract agreement, Llopis' Rocklin Fire crew was dispatched to a medical rescue on Steven's Trail on August 23 at 2 p.m. They had an asthmatic patient in need of emergency assistance located 1.5 miles from where the engine could be parked, requiring firefighters to hike in.
"We were updated at the trailhead that the patient was unconscious and we knew every passing minute was important," said Llopis, who has been with Rocklin Fire since 2019. "The team and I hit the ground running to render aid."
Llopis carried a paramedic bag weighing over 50 pounds on the narrow, rugged trail with sheer edges dropping more than 500 feet. Llopis' speed while carrying the gear allowed him to be the first person to make contact with the critical patient, and he began making immediate life-saving decisions and treatment.
Rocklin Fire Captain Heath Taylor coordinated patient extraction with a helicopter while Llopis directed his team in needs for the patient's care.
"I have no doubt that his ability to remain calm, think clearly, and act decisively saved this patient's life. Every member from the team did amazing work on all three of our rescues that day, but Firefighter-Paramedic Jesse Llopis deserves another level of recognition," Captain Taylor said.
The Rocklin Fire crew performed two other rescues that day, back-to-back over four hours and spanning five miles. All in a day's work.
"I am very happy we were able to provide the care our patient needed," Llopis said. "I also appreciate the recognition but it was all only possible through the work of everyone on the team involved that day."