Rocklin City Offices Closing at 3 p.m. Aug. 17 and 18 to Conserve Energy
Cooling Center at Rocklin PD open through Aug. 18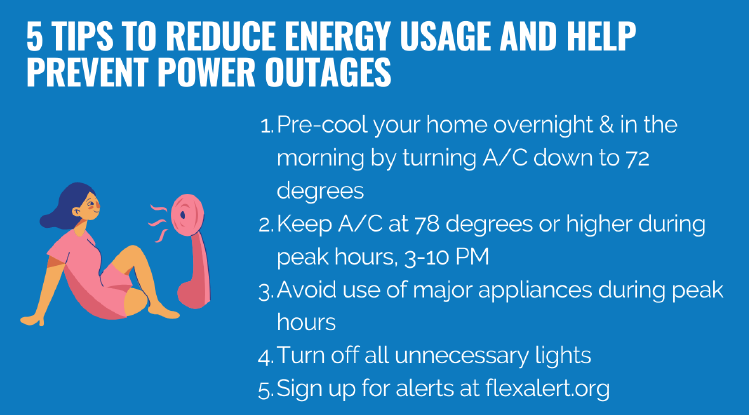 Rocklin city offices will close at 3 p.m. on Monday, August 17 and Tuesday, August 18 to reduce energy usage in the buildings. Closing early will allow employees to get home before temperatures peak and contribute to preventing energy service interruptions by reducing overall consumption.
The City's cooling center at the Rocklin Police Department will be open through Tuesday, August 18 from 1 p.m. to 8 p.m. Additional days may be added if the need persists.
To avoid energy shortages, the California Office of Emergency Services is asking residents to limit energy usage between 3 and 10 p.m. The following is a list of tips to help limit energy usage during peak hours.
At-Home Actions
Adjust your thermostat to 78° or higher during 3-10 p.m. (if health permits)
Pre-cool your home by setting thermostats to 72° in the early part of the day and overnight when your air conditioner is more efficient
Postpone using major appliances like the oven, dishwasher, and washing machine until cooler times of the day
Close windows and blinds in the beginning of the day to keep warm air out
Keep windows and doors closed to prevent the loss of cooled air
Turn off unnecessary lights and use LED lamps instead of overhead lights
Unplug any equipment not in use (phone chargers, power strips, etc)
At-Work Actions
Use natural lighting where possible instead of any unnecessary office lights
Set your zone thermostat to 78° or higher
Adjust blinds on windows that receive direct sunlight
Keep exterior windows and doors closed to prevent the loss of cooled air
Shut down and turn off office equipment when not in use and at the end of the day (printers, copiers, computers, etc)
Unplug break room electronics overnight (coffee makers and microwaves)
Additional Resources