New Rocklin Firefighters Pinned at Graduation Ceremony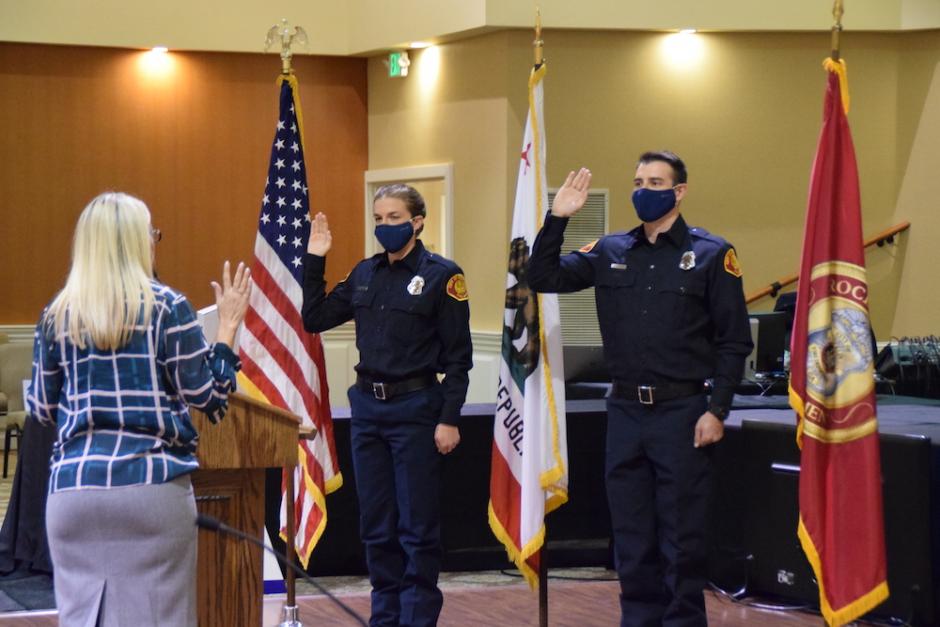 "Never settle." This was the motto that drove Nick Anderson, Ashley Jennings, and Alex Schnetz every day during their eleven week training to become Rocklin's newest Firefighters.
Through early morning lectures, grueling workouts, and endless hours of pulling hose and throwing ladders, they strove to gain confidence and skills, to better themselves mentally and physically, and most importantly, to never settle.
Anderson, Jennings, and Schnetz training culminated with a special socially-distanced badge pinning ceremony on Dec. 4 to honor their accomplishments and officially welcome them as Rocklin Firefighters.
"I am always impressed with this department, because when most people run away from a dangerous situation, you run towards it," said City Councilmember Ken Broadway in a speech during the ceremony. "You help people during the most challenging times in their lives and you do so in a way that provides comfort and support, and looking in front of me today, I can clearly see that we selected the right people."
Academy Training Supervisor Acting Captain Alton Tate said the new men and woman exemplify the Rocklin Fire Department's values of hard work, humility, and job excellence. Tate is confident their extensive training with both Roseville and Rocklin's fire academies taught them the skills necessary to endure physically and mentally exhausting tasks, and prepared them for the challenges of real-world calls.
As Rocklin's first full-time female firefighter, Ashley Jennings' hiring marks an especially significant moment in Rocklin Fire history.
"I take being Rocklin's first female firefighter as an incredible opportunity and honor, but the job is the same even though I'm a different gender," said Jennings. "I will do everything I can to be the strongest, kindest, and best firefighter, regardless of gender, and hopefully other young women will see that and know that it is attainable."
For Anderson, joining Rocklin Fire is realization of a goal he set nearly 10 years ago.
"When I went to my first fire class, I immediately fell in love with it and fell in love with the culture and family atmosphere," said Anderson. "I look forward to keep building this family, keep training, and keep building my skill set and improving myself so I can better the community."
The three new firefighters will continue to learn the Rocklin way and are already serving on engines throughout the city, helping to make Rocklin the safe place residents know and love.
Nick Anderson

Age: 28
Hometown: Pleasanton, CA.
Past experience: 59th FF 1 Academy at Butte College, three fire seasons with Marin County Fire Department as a seasonal firefighter, and two years as a paramedic with AMR Contra Costa County
Educational background: : BA in Public Administration from CSU Chico and AS in Fire Science from Butte College
Hobbies: Camping, backpacking, and enjoying the company of friends and family
What made you want to work with the Rocklin Fire Department specifically? One of the most important values that was instilled in me from a young age was the appreciation and love I have for family. The City of Rocklin Fire Department, and the community which they proudly serve, embrace that value of family and seek every opportunity to strengthen it. The close relationships I have seen, and the pride that they carry while working alongside each other in this department really set it apart from others for me. I can see myself truly calling the City of Rocklin my new home, and extended family, and I cannot wait to begin to serve!

Ashley Jennings

Age: 30
Hometown: Coalinga, CA
Past experience with firefighting and paramedics: FF1 Academy in Fresno, volunteer for Santa Barbara City Fire Department, paramedic for American Ambulance in Fresno, and AMR in Santa Barbara County
Educational background: BA from UCLA and Fire Technology certificate from LA Valley College
Hobbies: Playing guitar, hiking and camping, soccer, snowboarding, waterskiing, hanging out with my dog and boyfriend, and eating chips
What made you want to work for the Rocklin Fire Department specifically? I wanted to be close to my family and wanted to work for a fire department that shares a commitment to community and selflessness. Rocklin Fire is a place where I can be appreciated for who I am, while also being pushed to be better than I was yesterday. I look forward to building a life here, and becoming a wiser and stronger person along the way.

Alex Schnetz

Hometown: Greenwood, CA
Past experience with firefighting and paramedics: I started out five years ago with the Georgetown Volunteer Fire Department and have been volunteering there ever since, with a short stint of a little less than a year as a full time Paramedic Firefighter on the ambulance there. During that time, I also worked two fire seasons with the Forest Service in the El Dorado National Forest. I then worked as a Paramedic Firefighter for the city of South Lake Tahoe for nine months prior to coming to Rocklin.
Educational background: My biggest accomplishment was obtaining my paramedic license from Sacramento State University.
Hobbies: I enjoy camping, hiking, mountain biking, wakeboarding, working on my property, and anything with my wife and daughter.
What made you want to work with the Rocklin Fire Department specifically? I know Rocklin well, I grew up spending a lot of time here with friends and family and have always enjoyed the small town feel. I also had heard many great things about the department and knew it would be the kind of place that I would spend the rest of my career. The interactions with the people of this department since being hired have just solidified the feeling that this is the right place for me.