New Johnson-Springview Park Splash Pad To Open July 10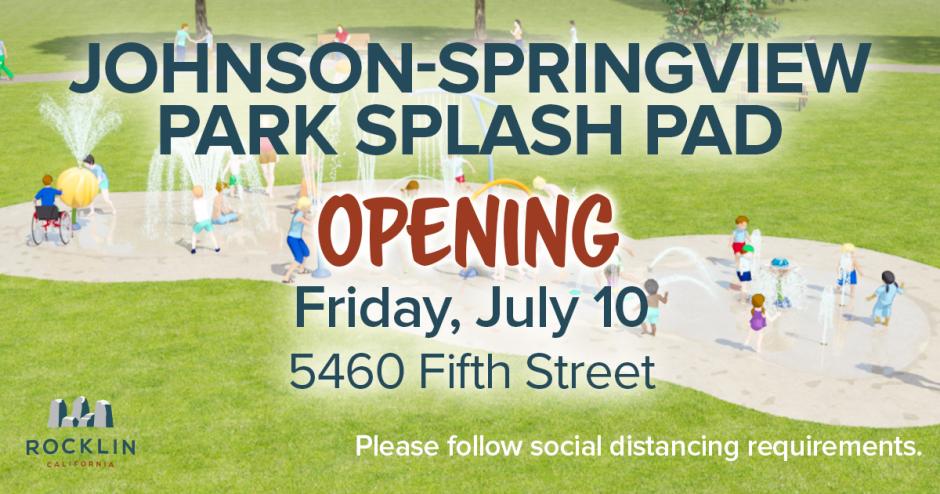 The waterworks at the new splash pad at Johnson-Springview Park will be flowing this Friday, July 10, at 10 a.m. to help residents beat the heat all summer!
"We are so excited to have the splash pad open in Johnson-Springview Park. Residents and visitors will be able to enjoy this addition for years to come. This is just one more way our parks help make Rocklin a great place to live," said Susanne Stockton, Chair of the Parks, Recreation, and Arts Commission.
Since its approval in November 2018, the new splash pad has been widely anticipated to bring wet fun to a third Rocklin park. All three splash pads, the other two located at Whitney and Kathy Lund community parks, are open daily from 10 a.m. to 7 p.m.
The City is not disinfecting public play structures, and the public should take necessary precautions to prevent the spread of COVID-19.
Users should practice social distancing and wash their hands before and after use of the facility. The City also encourages residents to plan ahead and pack hand sanitizer, water, towels and lawn chairs.
Under state guidelines, face coverings are also required in public when social distancing is not possible.
In addition to the splash pad, construction of a new picnic pavilion at the park is also complete, ready to welcome back gatherings after restrictions to help slow the spread of coronavirus are eased.
"City Council and staff know that parks are important to our residents, and we hope that these new amenities at Johnson-Springview Park help families safely spend time outdoors and cool off this summer," Mayor Greg Janda said.
Johnson-Springview Park, located at 5480 5th Street, features plenty of on-site and street parking with easy access to the splash pad, playgrounds, recreation facilities, and numerous other amenities.