Managed Grazing Returns to Rocklin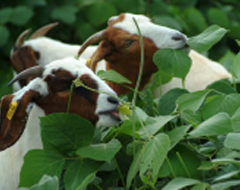 Herds of goats and sheep can be found once again this year grazing in the open space areas of Rocklin. Grazing is a cost-effective, environmentally-friendly way to manage vegetation and help prevent wildfires.

The City of Rocklin requires property owners to perform vegetation control on vacant parcels and open space areas. Grazing is a long-recognized, sound vegetation management practice that costs significantly less than most other methods.

In addition to being cost effective, grazing helps maintain a healthy ecosystem and provides numerous educational opportunities for children. It can also be fun for families to observe grazing animals.

Grazing is very effective in the springtime when the vegetation is green and high in nutrients, making it attractive to goats and sheep. Grazing helps protect sensitive habitats like wetlands and riparian areas and helps maintain air quality by eliminating the need for gas-powered mechanical equipment. Sensitive plant and animal habitats are fenced off from the grazing herd.

Grazers and landowners must have a valid grazing permit issued by the City of Rocklin Fire Department; grazing animals are not permitted in the city without a permit. An on-site herder will supervise the grazing process and use herd dogs and temporary fencing to manage the grazing animals.

In some circumstances, grazing may present some animal noise and family pets could become agitated. Also, when the grazing animals are moved across a roadway, there may be some minor traffic delays.

In most City-managed open space areas, grazing will occur in a single pass, meaning once the herd goes through the area, it will not be coming back this grazing season.

In the open space preserves, certain areas will be excluded from grazing to provide local wildlife with shelter.

Questions and comments regarding grazing activity in Rocklin can be directed to the Public Services Department at (916) 625-5500.

For more information including the 2016 Grazing Map and permit applications, please visit the Managed Grazing webpage.