Transit Meetings
Is the existing transit system meeting your needs?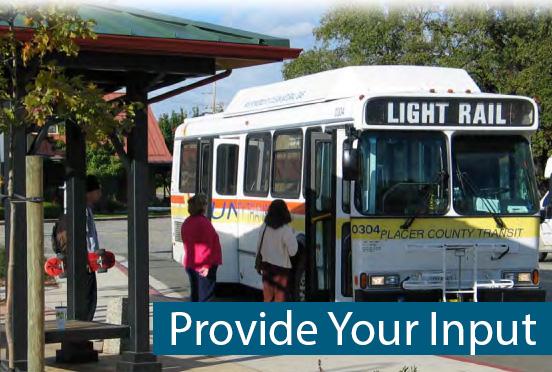 The City of Rocklin via the Placer County Transportation Planning Agency (PCTPA) is providing opportunities for your input on whether the existing transit system is meeting your needs.
Each year, usually in October, the PCTPA solicits testimony on Transit Needs that may exist in Placer County including all the incorporated Cities within the County.
To find out more about the Unmet Transit Needs Process and the definitions, as well as the criteria used to determine if those needs can be reasonably met, click to visit the PCTPA Unmet Transit Needs Overview web page.
Testimony may be provided in person at upcoming public workshops and/or hearings, by phone, or in writing (via e-mail or standard mail). To find out where and when to attend the workshops, click to visit the PCTPA Unmet Transit Needs Workshop Schedule web page.
Locations and times for upcoming workshops, as well as details regarding how to submit your comments, are included within the attached flyer. We look forward to hearing from you.
"Is Public Transit Meeting Your Needs?" -English
"Is Public Transit Meeting Your Needs?" -Spanish