Rocklin Park Tax – Senior Discount
The City of Rocklin Special Tax Districts are administered by an outside consultant Willdan Financial Services. They sent a letter to Rocklin seniors in April 2010 regarding the Park Maintenance and Development Tax asking for information related to your senior discount. Willdan Financial has been asked to update the tax rolls to account for homes that have transferred ownership or have been converted to rental properties.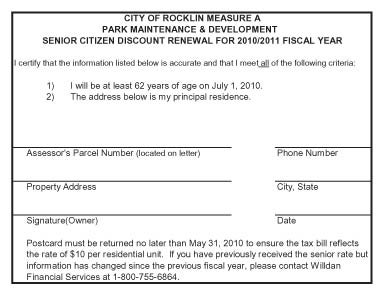 The letter included a pre-paid postcard addressed to Willdan Financial Services. Please return the postcard to Willdan to verify that you are still the owner of the property and you continue to meet the criterion that qualifies you for the reduced tax rate.