Midas Ave. Road Closure
Storm Damage Repair on Midas Ave
As many in the community are aware, Midas Avenue between Fifth Street and Argonaut Avenue has been closed since January 16th. The immediate closure was needed due to a potential street and sidewalk failure that required an emergency repair. The excessive rains from the first two weeks in January caused stress to the underground culvert that diverts storm water. This caused water to infiltrate the surrounding soil and created unsafe conditions for vehicles and pedestrians. Underground water, gas, and fiber-optic utilities in this area were exposed, and City crews are working with utility partners to ensure that utilities are not impacted.
To repair the damage to the culvert and road, crews will need to divert the existing water flow, purchase, construct, and install the new 12-foot by 10-foot culvert, and reconstruct the road. The repair is estimated to take 10 to 12 weeks. While these repairs take place, this area of Midas Avenue will remain closed to vehicle and foot traffic. Residents may not see active work in the area, but crews are working behind the scenes to ensure the repair is complete as soon as possible.
This site remains an active and hazardous construction zone, so residents are encouraged to find alternate pedestrian paths away from the area. Traffic is being detoured to Sunset Boulevard from Whitney Boulevard to the north and Third Street to the south. Residents can find more information about the repair process on the City's website here: https://www.rocklin.ca.us/post/midas-ave-road-closure You can also view the road closure map by clicking on the photo below.
The Midas Avenue repair was discussed at the January 24, 2023 City Council meeting. The read the staff report for the presentation, click here (pdf) To view the PowerPoint from the presentation, click here(pdf).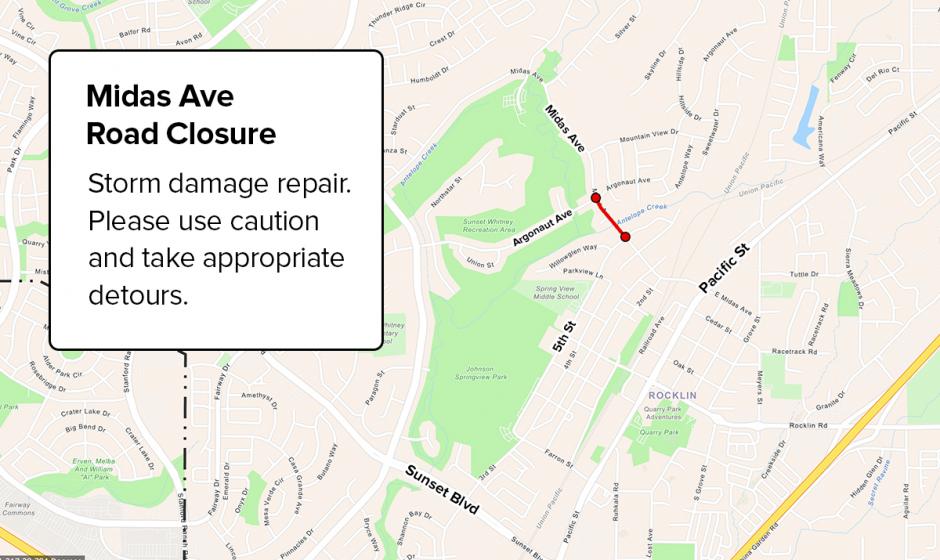 | | |
| --- | --- |
| Start Date | January 16, 2023 |
| End Date | Approx. April 7 – April 21, 2023 |
| Type of Alert | Emergency Road Closure |
| Reason | Storm Damage Repair |
| Project Lead | City of Rocklin, (916) 625-5500 |
| Notes | Updated January 27, 2023 |