Landscaping
Water Conservation Measures – May 4, 2015
The City is working hard to realize a 25% water reduction for March 15, 2015 through December 31, 2015. Again this year the conservation efforts will affect all potable water usage on City-owned properties. Unlike last year, our City parks will see some areas of turf dry-out.
The City's plan is a two-phase approach. Phases I and II are in effect now:
Continue City-wide splash park shut-down
One hour, or less, response time for reported leaks on City property
Limit overhead watering to between the hours of 9pm and 9am
Discontinue new City Property Planting Projects

Sierra College & I-80 Interchange
Rocklin Road & I-80 Interchange
Street landscaping turf replacement (allow turf to dry-out)
Replant two soccer fields at Kathy Lund Park with Bermuda grass
Woodside Park turf replacement

Turn-off, "Dry-out" water to unusable turf areas in parks

Hillsides
Small unused areas
Frontage
Click here to see how parks are affected by Phases I and II "Dry-Out"

Apply Hydretain, water retention product to all remaining City property turf, and reduce watering to three days per week
Click here to see a list of FAQs related to the City's water play areas.
Click here to see the City of Rocklin's 2015 Drought Mitigation Plan
Water Conservation Measures – May 18, 2014
This year due to the lack of rain we have had to run our systems at 25% of normal, and we are extremely conservative on our watering cycles. Our irrigation teams are constantly monitoring our systems. 
For several years the city has taken an aggressive stance on conservation, water reduction and energy efficiency. We have removed over 90% of our turf and spray heads in our street landscaping and installed drip irrigation and drought tolerant plants that create a 60% water savings. We partner with PCWA and utilize raw water whenever possible, which saves on the domestic water supply. 
The city has installed two weather stations that monitor several factors, wind, humidity, temperature, soil moisture, and evapotranspiration rates which allow us to precisely determine the amount of water our landscaping needs to deliver the proper amount which saves overwatering by approximately 20%. 100% of the cities irrigation systems are computerized and controlled by detailed analysis per zone and watering cycles are managed based on these weather conditions. We are able to shut these systems down if rain is forecasted and if it is determined that the soil has enough saturation. Water rates are adjusted weekly throughout the year, to ensure the proper amount of water is being delivered, whether it is 30 degrees or 100 degrees, we are delivering an accurate amount of water based on the landscaping needs and set parameters. 
Some irrigation systems still have pop-up sprays and we have implemented a replacement project to remove and replace these with drip irrigation and if required new drought tolerant plants, another 60% savings. In some landscaping areas we are unable to install drip irrigation and have installed a new pop up spray head that delivers a larger droplet which creates a water savings of 50% from the normal spray head.
Maintaining Medians and Parkways
Re-landscaping medians is done by City of Rocklin staff. Regular maintenance, weed control, hedging and pruning are handled by various contract landscape companies hired by the City of Rocklin. 
The entire irrigation system for all median and parkway landscaping is maintained by City staff, as is over ten miles of wood fencing.
Landscape Inspection and Compliance
The Parks & Recreation Department has one full time City employee responsible for landscape inspections and contract compliance for over 4.5 million square feet of landscaping within the City of Rocklin. In addition, City staff adheres to all state, county and city mandates.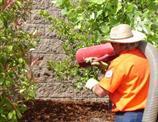 Customer Service and Special Requests
As part of the daily activities, a key role is responding to customer service and special request calls. These requests encompass a wide variety of activities such as water conservation, vandalism, neighborhood enhancements, City Council requests and any unscheduled emergency work and repairs.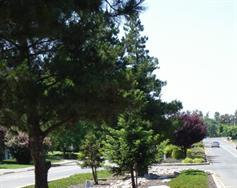 Future Citywide Development
As part of the long range planning and budgeting process, management and supervisory staff are required to work with development and engineering staff to coordinate new landscape enhancement projects. These activities include:
planning, designing and budget review
providing landscape material recommendations
performing inspections
final walk-through on completed projects
Additionally, Parks staff act as a support unit to project managers throughout the various stages of construction.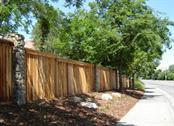 Landscaping Contracts
Landscape contracts will be growing right along with the construction of landscaped areas in Whitney Ranch and throughout the City. 
Landscape contractors interested in doing business with the City of Rocklin may contact Parks & Recreation at 916.625.5275 for information.