George Magnuson
Councilmember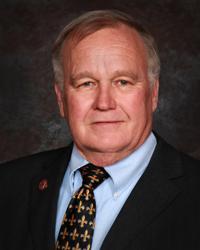 George Magnuson has served on the City Council since November 1991, and has served six terms as Mayor. George and his wife Kathy have lived in Rocklin since 1977 and have two adult children who reside in Rocklin. George has been a mortgage banker since 1976 and was manager of Magnuson & Associates from 1987 until 2007. He is now employed with the State of California Department of Housing & Community Development. 
George serves on the following committees:
Legislative Advocacy Committee
Park Names Committee
Western Placer Waste Management Authority Board of Directors since 1993
George is actively involved in many community activities. He has been a volunteer firefighter since 1977 with the Sunset Whitney Volunteer Fire Department since 1977. He advanced to the position of Assistant Chief, at which time the area was annexed into the City of Rocklin. He has been a starting City of Rocklin volunteer firefighter since then.
In 1980, George founded and organized the "Community Thanksgiving Day Dinners Committee". These dinners were started to enable seniors, widows/widowers, single people, and for those people that could not afford a dinner, to come together and have a holiday meal. It started out in Roseville and expanded to the communities of Rocklin, Lincoln, Loomis and Auburn. When all sites were functioning, over 5,500 meals were served to guests and volunteers. 
OPU (oh-pooh), meaning "big belly" in Polynesian, is a volunteer Cooking Crew that George organized with other active members of the community to help raise monies for non-profit organizations throughout Placer and Sacramento counties.