Draft Housing Element 2021-2029
Public Review Draft - May 21, 2021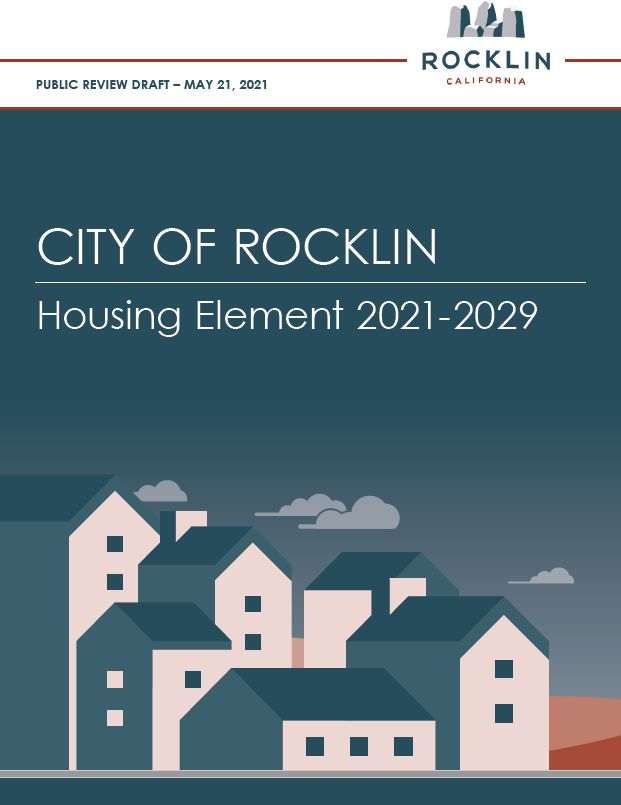 The City of Rocklin recently released the REVISED May 2021 Public Review Draft Housing Element.
The City's original Public Review Draft Housing Element was released on November 20, 2020, and submitted to the State Department of Housing and Community Development (HCD) on December 23, 2020, for a formal 60-day review. During HCD's review of the City's original document a number of clarifications and additional information was requested. The items provided to HCD as part of that process are shown in the PDF posted on the right side of this page, with changes tracked.
On February 19, 2021, HCD also provided a findings letter requesting that some remaining items be addressed. Items shown in the document in teal highlight have been prepared in response to HCD's February 19, 2021, letter and/or to provide additional clarifications in the document after HCD's first round of review had concluded.
The City of Rocklin has resubmitted the REVISED May 2021 Public Review Draft Housing Element to HCD for its formal review. Following completion of HCD's second review, the City anticipates moving the document forward for adoption hearings at Planning Commission and City Council. Those hearings have not yet been scheduled, but are currently expected to occur in July and August 2021, respectively. Notices for those public hearings will be distributed once a final schedule has been determined.
Comments on the REVISED document will be accepted by the City throughout the update process.
Please direct any comments or questions you have regarding the REVISED document and Update process by mail or email to:
Laura Webster | Director of Long Range Planning and Housing
Community Development Department | City of Rocklin
3970 Rocklin Road | Rocklin, CA 95677