Community Groups to Parade May 12 in Celebration of Rocklin's 125th Anniversary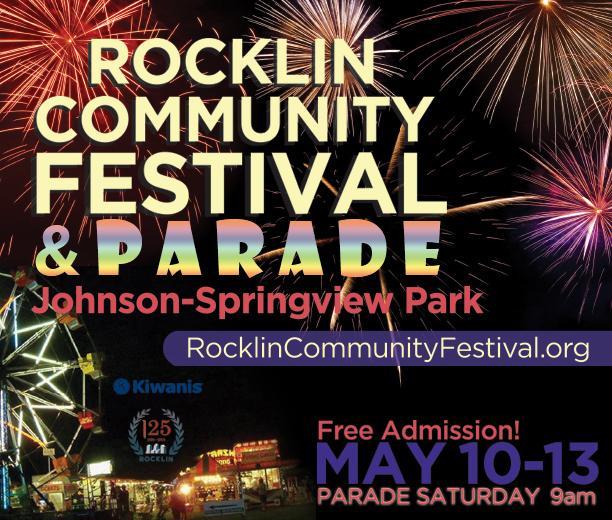 A parade celebrating what has made the City of Rocklin a great place to live, work and play through the last 125 years will be held on Saturday, May 12, in the Historic Front Street area.  The City of Rocklin and the Kiwanis Club of Rocklin have partnered to bring this march through the streets to life. Join the festivities by entering your community group, your work group, or your fun group in the parade. Share what it is that makes Rocklin great for you.
"Support for the City of Rocklin's 125th Anniversary has been overwhelming," said Michael Young, a spokesman with the City of Rocklin. "The City is excited to team with Kiwanis Club of Rocklin and watch the parade of volunteer groups and community organizations that really are the fabric of Rocklin."
Registration is being accepted at www.kiwanisparade.com through April 27 and school and non-profit groups can enter floats for free! Entries should incorporate the parade theme of "Rocklin through the years," and a detailed description is required with the application form.
The parade will be staged at Springview Middle School and begin at 9 a.m. on May 12. The parade will proceed on Rocklin Road, to Front Street, to Farron St. and then to 5th St. For the safety of participants and residents, streets will be closed and parking will be restricted along the parade route from approximately 8 a.m. to 11 a.m. on May 12. A notice will be sent to neighborhood merchants and residents informing them of the parking needs.
The parade will end near Johnson-Springview Park, where the 10th annual Rocklin Community Festival will be hosted. Join the Kiwanis Club from May 10-13 for Community Festival fun including live entertainment with local artists taking the stage, carnival rides and games, delicious food, and local business and craft booths.
"Proceeds from the Rocklin Community Festival are used to support the work Kiwanis does to serve children and the community," said Cris Gerard, Kiwanis member and lead parade organizer. "All of the money raised with this event directly benefits kids in need in the community.  This event and others like it are about giving back and working with our neighbors to make our cities the best places they can possibly be. We look forward to seeing everyone at the parade and the festival!"