City of Rocklin's General Obligation Bond Rating is AAA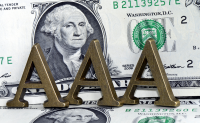 Fitch Ratings affirmed the City of Rocklin's AAA General Obligation bond rating and its AA+ Certificates of Participation rating. Fitch also affirmed the City's "stable" outlook.   The City of Rocklin is one of very few California cities to have the highest possible "AAA" credit rating. 

Fitch cited the City's strong financial reserves, moderate debt profile, and resilient local economy as the major drivers of their recent rating action. The City's strong credit ratings are a reflection of the conservative financial practices at the City and the economic strengths of the City and its citizens and businesses.  

By maintaining a strong credit profile, the City is able to minimize borrowing costs for critical infrastructure projects and save taxpayer dollars.  

See Press Release for more information.