Apply for Open Position on Board of Appeals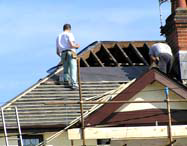 The City of Rocklin encourages residents to apply for positions on City boards and commissions that have vacancies in 2016.
One unscheduled vacancy has occurred on the Board of Appeals for a term covering the period through June 30, 2020. Applicants must be residents of the City of Rocklin, 18 years of age or older, and a registered voter with experience/training pertaining to building construction.
Applications and information regarding the appointment may be obtained by calling 916.625.5588, online, or stopping by Rocklin City Hall, 3970 Rocklin Road, Rocklin.

Final appointment to the Commission shall not be made by the City Council for at least 10 working days after posting of this notice in the office of the City Clerk. In the event that no applicants express an interest in this position, the position will remain vacant until filled.
About the Building Appeals Board
The Building Appeals Board meets on the first Thursday of March, June, September, and December at 6:00 p.m. Meetings may be canceled if there is no business to be transacted. The Appeals Board hears issues involving interpretation of building and fire codes as adopted and amended by the City of Rocklin.
For more information about this position contact the City Clerk at 916.625.5588.