2019 Summer Concert Season
Platinum Living Amphitheater at Quarry Park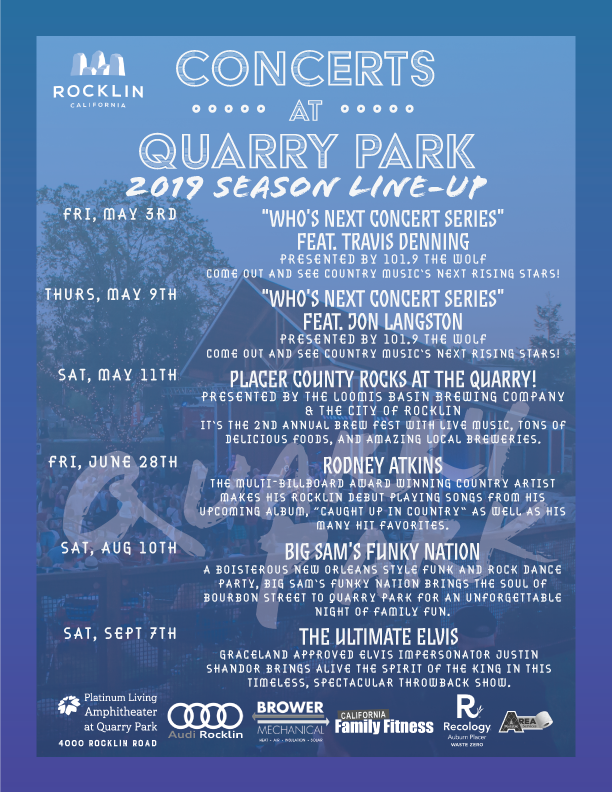 The City of Rocklin is pleased to announce its 4th concert season at the Platinum Living Amphitheater in Quarry Park! This year will feature a variety of talent and musical genres that the community and region have been asking for. Don't forget to follow us on Facebook @RocklinQuarryPark and be the first to know what's happening at Quarry Park!
Stay up-to-date for first notice of ticket sales, follow us on Facebook, Twitter, and Instagram at @RocklinParksRec. As always, you can go to rocklin.ca.us/events for more details.
MAY 3 | "Who's Next Concert Series" Feat. Travis Denning Presented by the Wolf. A Country Music experience for all ages! Purchase TICKETS now and save!
MAY 11 | Placer County Rocks at the Quarry is a showcase of the great craft beers made in the Placer County area, along with some great local reggae music on the Platinum Living Amphitheater Stage and the Brower Mechanical Firehouse Stage at Quarry Park! ARDEN PARK ROOTS will be headlining. See the complete list of breweries, bands, and food trucks online. Plus purchase TICKETS in advance AND save!
AUG 10 | Big Sam's Funky Nation Funk-rock blues served up New Orleans style at Quarry Park's first dance party! Get a second chance at that Mardi Gras spirit this year with one of the South's hottest bands! Tickets on sale Friday, April 12 at FunkyNation.Eventbrite.com Use code EarlyBird for $5 off, limited time only!
SEPT 7 | Named "The Ultimate Elvis Tribute" by Graceland in 2010 and featured on David Letterman, Justin Shandor embodies the spirit of "The King" in this unforgettable tribute show! Purchase TICKETS now and save!