Round 2 of Grant Funding Available to Rocklin Business Hard Hit by COVID-19
Up to $1,000 Available To Expanded List of Businesses. Application Period Extended Through Feb. 26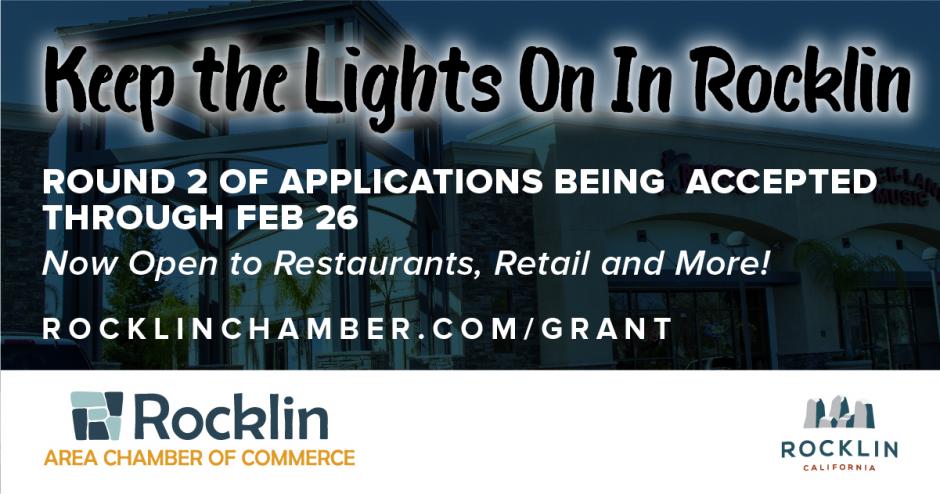 With approximately $160,000 in Coronavirus Aid, Relief, and Economic Security funds provided by Placer County, the Rocklin Area Chamber of Commerce and the City of Rocklin have collaborated on a new grant program to assist Rocklin businesses in industries hardest hit by Covid-19.
The Keep the Lights on in Rocklin Grant Program provides grants of up to $1000 to cover power bills for eligible small businesses.

Rocklin-based businesses (including the unincorporated areas of Rocklin) in the following industries will be eligible to apply in Round 2:
Hair Salons and Barbershops
Personal Care Services
Movie Theaters
Gyms & Fitness Centers
Wineries
Bars, Breweries and Distilleries
Family Entertainment Centers
Restaurants
Retail
Non-homebased Daycare Centers
Pet Boarding
Tutoring/Education Centers
Dentists
Chiropractors
Veterinarians
In the event the program has excess funds, the application process will be opened to the retail and restaurant industries.
"Helping local businesses large and small meet the many challenges of the COVID-19 pandemic is one of my highest priorities as Mayor of Rocklin in 2021," said Rocklin Mayor Jill Gayaldo. "All businesses have utility bills factored into the cost of operating and reimbursing eligible applicants is an equitable way to provide quick cash infusions to a large number of establishments."
Business in the categories above must also meet basic eligibility requirements, which include having been in business since March 1, 2020, with an active license, not be home-based, and be in compliance with state COVID-19 operating guidelines. Chamber membership is not a requirement.
The application period is open now through Friday, Friday, 26. More information on eligibility and the online application can be found at www.rocklinchamber.com/Grant.
The Rocklin Chamber and City would like to commend the Placer County Board of Supervisors and Placer County staff for the numerous and generous ways they have stepped up to serve the business community over the past nine months.
"Multiple rounds of financial support totaling over $16 million in CARES Act funding, as well as strategies, resources and information to help businesses operate safely, have had an enormous impact in keeping the lights on for businesses in Rocklin and across the county," Rocklin Chamber CEO Robin Trimble said.