New Play Structure Coming to Twin Oaks
Slated to open mid-March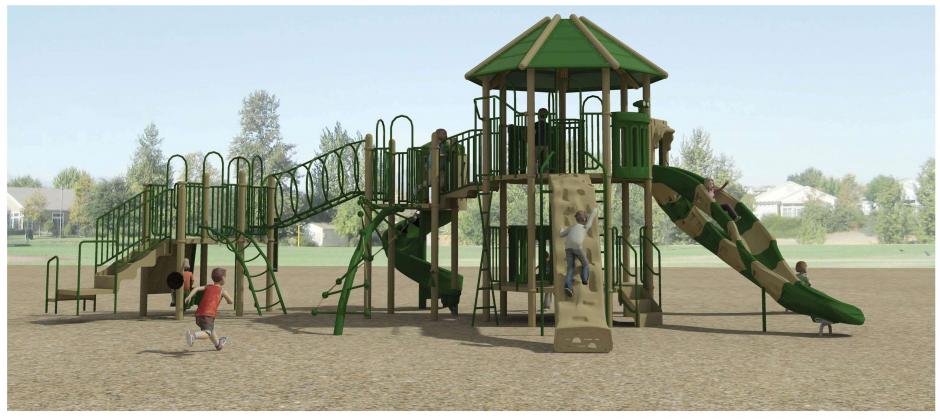 A well-loved play structure in Twin Oaks Park that had provided thousands of hours of fun and active play to a generation of Rocklin kids has been removed to make way for a new play structure.  The original structure, installed when the park opened in 1993, had reached the end of its useful life and replacement parts were no longer available. 
Federal safety guidelines for play structures are updated and change over time.  As this and other play structures in Rocklin parks near the end of their life expectancy, they are replaced with new structures that meet current guidelines.  Although the previous play structure at Twin Oaks was safe and inspected on a weekly basis like all play structures in Rocklin parks, regular maintenance and eventual replacement is just one way the Parks and Recreation Department ensures residents are provided with safe, outdoor spaces that promote fun and active play for children and families to enjoy.
Replacing the previous play structure also provides the opportunity to add a therapeutic swing to the grounds. Twin Oaks will be the sixth park in Rocklin to have this swing type, which improves accessibility for children with special needs.
 "All kids want to play and be a part of the action," said Parks Supervisor Shawn Darling. "Therapeutic swings allow children that may not otherwise be able to swing the ability to enjoy time at the park with family and friends."
Another change park-goers will notice is that the sand will be replaced with wood mulch, which technically is called engineered wood fiber (EWF). According to Darling, EWF better meets safety standards for head impact injuries and is considered a more accessible surface when compared to sand. The mulch also doesn't spread to surrounding areas as easily, lowering maintenance costs for cleanup and replacement of grass and turf. The costs may seem small, but can add up when you consider the city maintains 34 parks.
Although funding for parks has not increased significantly over the past 10 years, the City has added eight new parks. This is possible through the implementation of new technologies, creative approaches to address park needs, and the careful stewardship of park funds.
"We know that the parks, trails and open space areas within the City of Rocklin are valued by our residents and are an important part of why people choose to live in Rocklin," said Sarah Novo, Parks Division Manager. "It's important that we invest wisely to maintain these tremendous city assets as the City's focus moves from building parks to maintaining and reinvesting in parks."
The new play structure and swings should be installed by mid-March, weather permitting.  A possible separate sand play area is also being considered, with staff gathering information on design, cost and funding sources. A final decision on the sand play area is expected by the end of March.
The Parks and Recreation staff is proud to take care of our City's 34 parks and we hope you get out and enjoy your favorite soon!  For more information, contact Rocklin Parks and Recreation at (916) 625-5200.