Keeping Rocklin Running
Permit Center Coordinator Gabrielle de Farcy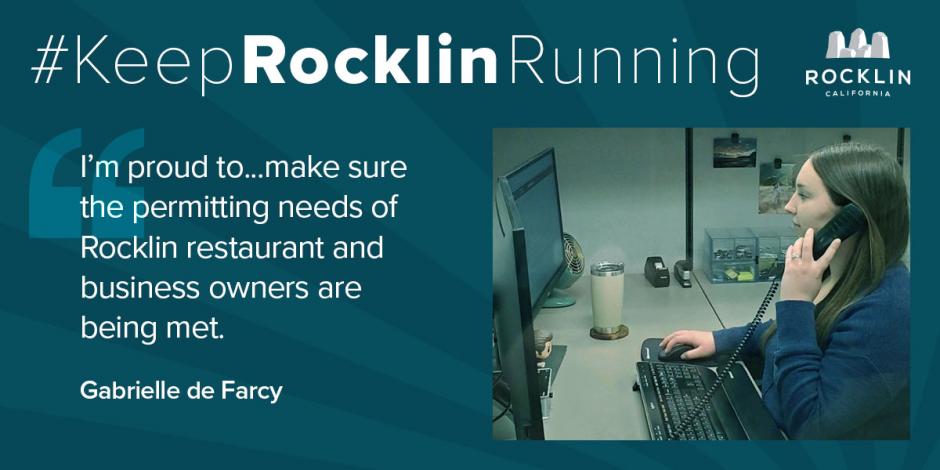 Permit Center Coordinator Gabrielle de Farcy is helping to keep Rocklin running during the coronavirus pandemic.
"I oversee operations of the city's permit center—giving information, direction, and requirements to the public related to building, planning, and engineering. My job is to ensure accurate and efficient processing of building permit submittals and fees," de Farcy said.
De Farcy splits her office hours by working from home and the office. All City employees are practicing CDC and federal guidelines to prevent the spread of coronavirus. This includes social distancing and telecommuting, when able.
During the pandemic, building services have limited face-to-face contact but de Farcy is still in regular communication with home builders, architects, and business owners online or by phone to keep projects moving.
By performing these essential City services, projects like new buildings, tenant improvements, and alterations (upgrades and remodels) can safely be approved for Rocklin restaurant and business owners, rather than everything coming to a halt.
"I'm proud to still be working for the City in this scale to support on-going development and make sure permitting needs of Rocklin restaurant and business owners are being met," de Farcy said.
New building permit submittals and permit pick up times include: (check/credit card payment required)

Mondays & Tuesdays from 8:30am to 10:30am by appointment only.

Plan Resubmittal and Field Revision drop off

Mondays & Tuesdays from 8:30am to 10:30am by appointment only.
To schedule an appointment, or to ask questions, please email: building@rocklin.ca.us.
*This post will be part of a regular series highlighting how City employees continue to provide essential services and #KeepRocklinRunning.